I earlier expressed concern (here and here) that insufficient details about the analysis of near-term oil supply prospects by
Cambridge Energy Research Associates had been released to allow outside observers an opportunity to evaluate objectively the basis for their conclusions. The Oil Drum notes that these details are now available from CERA. My impression from examining these is that CERA has good reasons for expecting significant oil production increases over the near term.
I had earlier shared the Oil Drum's puzzlement as to why Cambridge Energy Research Associates and Chris Skrebowski of the Oil Depletion Analysis Centre had arrived at such different conclusions about near-term global oil production prospects, with CERA concluding that the world's oil production capacity could increase 16 million barrels a day over the next five years, while Skrebowski was quoted by Global Public Media as concluding that increased production through 2010 "would almost certainly not be sufficient to offset diminishing supplies from existing sources and still meet growing global demand," though the detailed copy of this study that I was able to find appeared somewhat more optimistic. The discrepancy between CERA's and Skrebowski's conclusions is surprising, since they used essentially the same methodology, namely, a bottom-up, field-by-field tally of major prospects that will soon be going into development. The Oil Drum suggested that the discrepancy might be due to the fact that CERA had completely neglected the decline in production rates from existing fields. This conjecture by the Oil Drum turns out to be incorrect. For example, the graph at the right displays CERA's projections for Brazil, which show falling production rates from the Marlim oil field. Eyeballing this, CERA appears to have assumed something like an 8% annual depletion rate. This is projected to be more than offset from new fields under development (FUD) and later by fields currently under analysis (FUA) such as Albacora Leste, Marlim Leste, and Marlim Sul.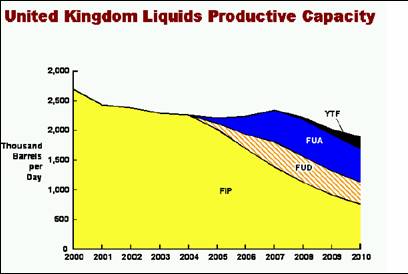 CERA developed their depletion assumptions on the basis of a field-by-field analysis. For example, for fields currently in production (FIP) for the United Kingdom, the graph at the left suggests about a 20% annual depletion rate, partially offset with new projects such as Buzzard. CERA also assumes modest depletion for Saudi Arabia's Ghawar field.
It may be that these field-by-field depletion assumptions work out to a different total than the overall rate assumed by Skrebowski. However, it is clear that another explanation for the differences in the conclusions is that CERA was including many projects that Skrebowski did not count. For example, I was unable to locate on Skrebowski's list the 200,000 barrels per day from Sudan's Adar Yale field, the 170,000 barrels per day expected from Sakhalin II, or a half dozen other big projects that are included in CERA's total.
This is not to say that CERA could not be wrong in any of these individual estimates or their collective implications. In particular, as CERA has emphasized, the "above-ground" risks to all of these projects are quite substantial, the setbacks to the Gulf of Mexico production from this summer's storms being the most recent example. While these fields may hold geologic promise, the physical challenges of deep-sea and oil-sand production, and the geopolitical risks in places like Sudan, Iran, Iraq, Nigeria, and Russia are far from inviting. The world has been forced into reliance on these less attractive options precisely because the safe, easy resources are gone.
Still, having the prospect of getting oil from such places seems better than not having any oil at all.
Technorati Tags: peak oil, oil,Cambridge Energy Research Associates