A number of observers have been pointing to oil shale as the solution to all our energy problems. If oil shale does turn out to be the resource of the future, then our problems are only beginning.
Instapundit sees a "plan to put Middle East oil producers out of business" in this story from the Rocky Mountain News:
[W]ith crude oil above $66 a barrel at the close of trading [on Sept. 20], oil shale is a promising alternative to crude. The Green River shale deposits in Colorado, Utah and Wyoming are estimated to contain 1.5 trillion to 1.8 trillion barrels of oil, and while not all of it can be recovered, half that amount is nearly triple the proven oil reserves of Saudi Arabia.
Other influential voices sharing Glenn's enthusiasm include Austin Bay, GOP Bloggers, Polipundit, and
Econopundit.
American oil companies abandoned oil shale demonstration facilities in the 1980's on the grounds that production was not economically viable. More recently, an oil shale demonstration plant in Queensland, Australia produced 700,000 barrels of oil between 2001 and 2003, and oil shale remains a major energy source for Estonia. At President Bush's direction and with encouragement from this summer's Energy Bill, the Bureau of Land Management sought applications from companies for small-scale research, development, and demonstration projects, for which 18 companies have applied.
"Oil shale" typically is not shale and does not contain oil, but rather is a rock known as marl containing organic compounds like kerogen. When heated to high temperatures (referred to as "retorting"), one can obtain an oil-like substance from the rock which can be refined to produce a transportation fuel. Bubba of Belly of the Beast, who worked for two years on attempted commercialization of oil shale, describes the process this way:
If you heat this shale to 700 degrees F you will turn this organic carbon (kerogen) into the nastiest, stinkiest, gooiest, pile of oil-like crap that you can imagine. Then if you send it through the gnarliest oil refinery on the planet you can make this s*** into transportation fuel. In the mean time you have created all kinds of nasty byproducts, have polluted the air and groundwater of wherever you have extracted it.
The fact that large quantities of heat are required to obtain a usable fuel from the rock means that this is a far less efficient source of energy than conventional oil. Shell claims it can produce 3.5 units of energy for every unit input, though one wonders whether the energy content of all the inputs is taken into account in such figures. The lower this ratio, the more the cost of producing oil from shale would rise as energy prices go up. Another implication of the high energy needs for processing is that significantly more greenhouse gases are released per barrel of usable fuel produced. Concerns about greenhouse emissions appear to have been the basis on which
Greenpeace succeeded in closing down the Australian demonstration plant.
Queensland oil shale mine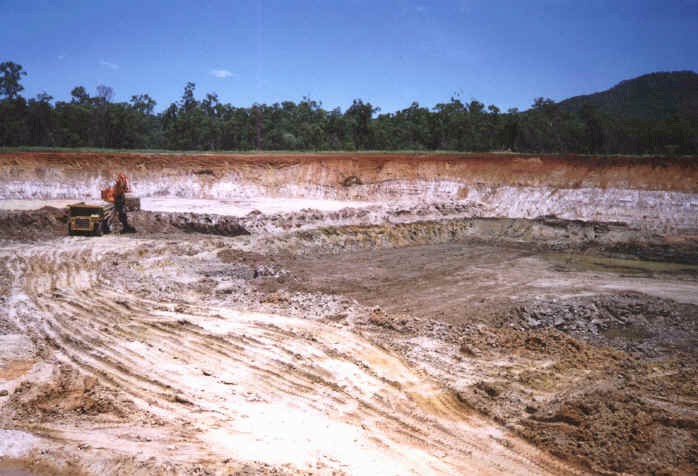 The rock expands in size upon heating, meaning you can't put it back in the ground, and it is carcinogenic. Two metric tons of rock are required to obtain a barrel of synthetic crude. Mark in Mexico (hat tip: Ace) spells out the logistical problems that this raises:
Try to imagine the hole a 33,400,000,000,000 tonne excavation would make. Hello, China. Try to imagine the mountain of waste rock (carcinogenic) because the rock expands, kind of like popcorn, when it is heated to remove the kerogen, so more has to go back than is removed. Hello, Icarus. Try to imagine the poisons produced by the processing of all that shale if it is done above ground, or all the dead fish if it is done in situ. Hello, King of the Wasteland– the Ayatollah of rock-'n-rolla.

Three barrels of water are needed per barrel of oil produced, and it is not clear how
current users of that water might be persuaded to surrender its use for oil shale.
Shell is working on an in situ retorting technology, in which the rock could be heated without being removed from the mountain. They claim to be able to produce oil at a cost of $30 per barrel, and in situ processing should reduce the environmental, energy, and water costs.
Stuart Staniford at the Oil Drum noted another problem with relying on oil shale to replace conventional oil resources– we may need such replacement very quickly, and it will take a considerable amount of time to develop this resource. A recent Rand study concluded it will be at least 12 years before oil shale reaches the production growth phase. And that is a technological assessment, not a reference to the environmental review process. If it takes 15 years to get an oil refinery built and approved, despite well known technology and well understood environmental issues, viewing oil shale as something that could make major contributions to world energy supplies in the immediate future seems highly unrealistic.
Despite these misgivings, I believe that the applications that BLM has received for oil shale demonstration projects should be approved and pursued aggressively. Given these lead times, we certainly need to be developing the ability to exploit this resource, if need be. Bad as this option is, I'm not certain that we have anything better. But unlike the enthusiastic supporters of oil shale, my hope is that we never have to rely on it.
---
Technorati Tags: oil shale