Has environmental regulation been responsible for leaving the U.S. with inadequate gasoline refining capacity? The story is not as simple as some have suggested.
Half the nation's refineries have been closed down since 1976, without a single new one in operation. To Reason Foundation's Adrian Moore, this paints a pretty clear picture of the source of our problems:
Just a few new refineries would alleviate the problem and help keep our gas prices lower and steadier.

But getting an oil refinery built is next to impossible, hence the 30-year construction drought. There will always be environmental activists who fight any new proposed refinery, regardless of where it might be located and how environmentally safe it is. And our environmental rules give them the upper hand.
Instapundit,
Backcountry Conservative,
GOP Bloggers, and Knowledge Problem were among the many who seemed to endorse this conclusion. It's also the reason that President Bush raised the possibility this spring of using old military sites as possible locations for building some new refineries.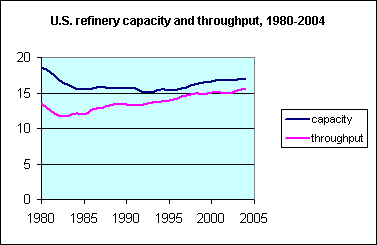 One problem with this story was pointed out by Cato Institute's Jerry Taylor and Peter Van Doren (hat tip:
Economist's View). As the graph at the right reveals (data source:
BP Statistical Review of World Energy June 2005), apart from a brief decline in the early 1980's associated with the drop in energy demand at that time, the total quantity of crude processed by the nation's refineries (known as "throughput") has been steadily rising, despite the loss of half the facilities. Increased scale of operations at the remaining refineries has more than made up for the drop in the total number. It is true that capacity has not grown as fast as throughput, so that there is much less excess capacity in the system now than in 1976. But Taylor and Van Doren argued that it was the earlier period that was unusual:
The explanation resides in the fact that we had a lot of refineries back in 1981 not because of market forces or the lack of environmental regulations, but because the government subsidized the existence of small, inefficient refineries.
And although refinery output has not kept up with U.S. gasoline demand, Taylor and Van Doren weren't worried about that, either:
The increase in gasoline imports since 1976 (from 2 percent of the market then, to 5.8 percent now) is often cited as evidence that "we have a problem." Nonsense. International trade is a good thing. The more globalized the market, the more diversified our supply and the less vulnerable the U.S. market is to disruption. Moreover, the more global the market, the greater the competition.
Although Taylor and Van Doren are making an important point, perhaps they have overstated the case slightly. I would point out first that, although problems with getting a permit to build a refinery are not the only factor, they certainly must be given some weight. Moore noted that the Yuma, Arizona refinery will go on line 15 years after it was first proposed, in large part because of opposition like this. Consider the nature of the effect on your own ability to buy a new car or house if you had to make these decisions 15 years in advance. Environmental concerns appear to have been responsible for preventing the reopening of a refinery in Santa Fe Springs, CA. And interestingly, the Bush proposal to use old military sites had not even gotten out the door before the "not in my backyard" campaigns began. Once the Yuma refinery is in operation, it can look forward to additional lawsuits, like
this one or this one or
this one.
As for the suggestion that international refineries are more competitive than American, it's usually cheaper to transport crude oil than refined products, which is why refineries tend to be located in the consuming areas rather than producing areas. Insofar as foreign refineries do have a cost advantage over their U.S. counterparts, surely part of that comes from our more stringent environmental regulations. In addition to the litigation liabilities noted above, a study for the Department of Energy estimated that "the share of total U.S. refining capital expenditures for pollution abatement increased from slightly over 10 percent shortly before the Clean Air Act Amendments of 1990 to over 40 percent in recent years".
These trends have also coincided with a proliferation of fuel standards in the U.S. The simultaneous decrease in the number of refineries and increase in the number of separate markets has meant that a far smaller number of suppliers compete in any given community, and makes the system far more vulnerable to local supply and demand disruptions. Having a smaller number of refineries and far less excess capacity in the system also makes us more vulnerable nationally to events such as the damage wrought by Katrina.
In addition, there is a global crunch in refining as well (also
here), particularly in the ability to process the heavy, sour crudes that are currently in much better supply on the world market.
If those refineries in Yuma and Santa Fe Springs had been producing gasoline this summer, would it have made any difference? It couldn't have hurt.
Technorati Tags: refining, refineries,
gasoline prices, gas prices