If the current account deficit matters, how can we fix it?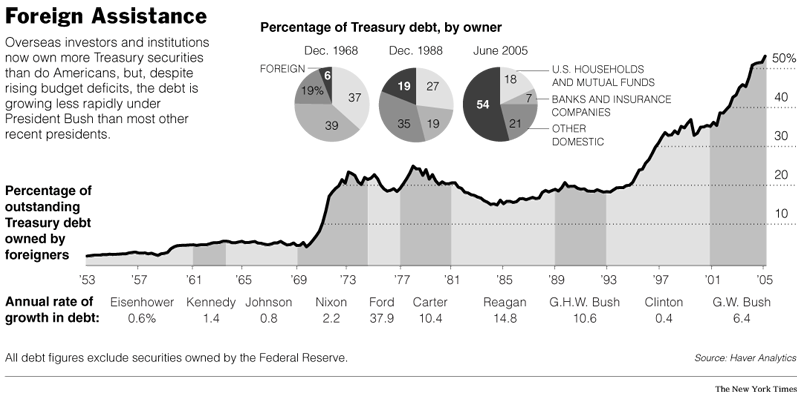 Last week, Jim was kind enough to let me expound my thoughts on the origins of the current account deficit, and the sustainability of large imbalances as the ones we see today.
Along these lines, Charles Engel and I at the University of Wisconsin have started a website that links to academic and policy papers on the debate over these issues — so if you've already seen enough of my
views, you should take a look at the alternatives represented there, including the well known BW2 view of my former UCSC Economics colleague Mike Dooley.


Otherwise, I'd like to start off the debate over what should be done. I've laid out my arguments in a Council on Foreign Relations
Report on "Getting Serious about the Twin Deficits", published last week, but here, I'll lay out my views more briefly.



Reduce the budget deficit.

Reduce oil imports.

Coordinate greater exchange rate flexibility in East Asia.


Let me deal with each of these policy prescriptions in turn.


Fiscal Issues


In my previous post, I argued that U.S. fiscal policy is at the heart of the imbalance.
One can argue over the extent, but the macroeconometric models indicate between (approximately) 0.20 to 0.40 (Fed and OECD respectively). New dynamic stochastic general equilibrium models (DSGE)
models imply something between 0.20 and 0.50 (Fed's Sigma and IMF's GEM). In both cases, both model characteristics and the policy assumptions differ (what happens to debt to GDP, what does monetary policy
do?). Panel cross-section work by myself and Hiro Ito suggests that the coefficient is 0.20 or so,
although the standard errors bracket values as high as 0.40 (which is a value we obtain using fixed effects).


Clearly, given this viewpoint, it's no surprise that I believe the CA deficit has to be addressed primarily by fiscal means. If the fiscal position were to swing by 6 percentage points of GDP, much like what the Clinton Administration achieved during its eight years, then this implies an improvement of between 1.2 to 3 percentage points of GDP,
which is not insignificant even as the 2005 deficit seems poised to reach about 6.3 ppt according to the Economist survey, and perhaps above 6.5 ppt according to Brad Setser.
This argument holds regardless of whether one believes in the global "savings glut", or not.


Oil Imports


Of the deterioration in the U.S. trade balance between 2001q4 and 2005q1, 40% was accounted for by the increase in spending on petroleum imports (using BEA data, so I believe this doesn't
include natural gas imports). You might think that the main reason to reduce oil imports is to reduce imports in general. I think in the short run that's true; but if
one believes that macroeconomic balances (savings, investment, public sector savings) drive the evolution of the current account balance over the medium term, then reducing oil imports would in this context mean higher non-oil imports, to the first approximation.
Rather, it is that oil imports, comprising roughly 15% or more of total imports, are almost completely insensitive to fluctuations in the value of the dollar. Hence, large energy imports short-circuit the
expenditure switching effect of exchange rate movements. So, reducing oil imports enhances the ability of the tradable sector to respond to changes in the willingness of the rest-of-the-world to finance
U.S. current account deficit. In the short term it would also reduce imports and hence the rate at which foreign debt is accumulated.


How can this be accomplished? Clearly, if this were easy, it would've been done before. For sure, it won't be done by having the temperature dropped a couple degrees in the White House. So we are left with
options such as taxing energy, or enforcing conservation via regulatory means. As an economist, I would certainly prefer a gasoline tax over increases in the fuel economy standards (see the CBO study on this issue), but at this point, since
policy makers have abdicated responsibility for so long on this issue, any move would be preferable to none.


Additional domestic supplies would be welcome; and certainly higher prices will elicit more domestic production. However, readers of this blog will probably know that there are serious
geological and technical impediments to increasing output rapidly. Hence, what progress will be made on this front will be primarily accomplished by way of reducing consumption.
(I'm not an energy expert, but I did attend the early meetings of the working group associated with the Vice President's group on the National Energy Policy Development while working at the CEA, and also examined some of the macro implications of
higher energy prices, then at an astounding $21 per barrel for WTI, and $5.62 per million BTU natural gas!).


Greater Exchange Rate Flexibility in East Asia


In some ways, the first two items are easy — at least easy in the sense that they only concern domestic policy-makers. The third point requires the cooperation of foreign state actors.
Let's first clarify why greater exchange rate flexibility is necessary. The other central banks of East Asia are managing their currencies in order to retain competitiveness with respect to
China. China in turn has pegged and now ostensibly manages its exchange rate vis a vis a currency basket, since July 21. The importance of the Chinese peg and basket is not really that it maintains the
Rmb at a low value relative to the dollar and hence accumulates dollar assets. Those who are familiar with this debate recognize that a lot of the accumulation of reserves pre-2005 was due to hot money flowing in.
(going into 2005-06 may be a separate matter). If there is greater flexibility of the Rmb, then speculation on one-way bets will decrease, and reserve accumulation will fall.


Right now, no actor has an incentive to move. With the Chinese economy cooling, the Chinese want to keep export growth up. As long as China does not allow greater appreciation of the Rmb, the other
East Asian governments will be reluctant to allow their currency to appreciate. What is needed is somebody to coordinate a generalized appreciation. The only actor big enough
to do that is the U.S. So progress on this front would require high level USG involvement, and a willingness to engage in multilateral dialogue. If the U.S. can recast
Chinese revaluation in the context of being the acts of a "good citizen" in the global economy, and at the same time bring on board the other regional monetary authorities (thereby allowing the Chinese to save face),
then this route may have a chance. It certainly is better than bashing, or having the IMF bash, the Chinese in public fora. so a new "Plaza Accord" is called for (not my original idea but I'll second it; Brad Setser mentioned it back in 2004, as has Jeffrey Frankel).


If reserve accumulation declines, then interest rates on Treasury securities will rise. Work by Warnock and Warnock indicates that long term yields
are about 150 basis points below where they should be on the basis of a standard bond yield model, and they attribute that difference to foreign capital inflows. Jeff Frankel and I argue that the underprediction of U.S. yields is
attributable to foreign official capital inflows (i.e., foreign central bank purchases of U.S. Treasuries).


Once long term interest rates rise, the housing prices will decline, measured (NIPA) savings will rise and the current account imbalance will shrink (note that there isn't much of a discussion of how appreciating East Asian exchange rates
will induce expenditure switching; that's because most estimates indicate this effect will be small).


One last caveat. The last two measures are adjuncts, not substitutes, for action on fiscal policy. Implementation of the latter two only delays the day of adjustment, and likely makes it more discrete.
And despite the results of some very good analyses by Freund and Warnock,
Croke, Kamin and Leduc, and Gagnon, who really knows what will happen if and when asset prices have to move quickly and a lot in the largest economy in the world.