Having discovered that this summer's behemoth energy bill in fact did nothing to help with the problems uncovered by Hurricanes Katrina and Rita, Congress is ready to try again with HR 3893, which was reported out of committee last week. This one actually has some good ideas in it.
HR 3893 (hat tip: Green Car Congress) includes the following features:
Sites for new refineries. No new refinery in the United States has been constructed in the last thirty years, and half have been shut down. HR 3893 calls on the President to come up with a list of sites, of which at least 3 will be on closed military installations, that might be suitable for refinery location, and to secure contracts with companies to lease these sites for purposes of refinery construction. The bill also expedites the review process so that permits will be granted quickly. The DC Court of Appeals is given original and exclusive jurisdiction for civil actions related to a federal refinery authorization.
One can make a case that had such a measure been in place five years ago, this summer we would have had additional refineries in Yuma, Arizona and Santa Fe Springs, California. However, a more important factor than the difficulty in finding a site for a new refinery has been their low profitability [1] [2]. Reducing the risk and time factor of environmental litigation, as proposed by the bill, could certainly be helpful in terms of improving that profitability. But the bill also proposes that the government sell crude oil at up to a $4.50 discount to small refineries for further encouragement. This is the kind of corporate handout that we cannot afford given the magnitude of our problems with the U.S. budget deficit and is difficult to justify economically. I personally would much prefer a plan that makes sure that environmental regulations are thoughtfully developed in a way that rationally weighs costs and benefits, gives companies certainty about the nature of any liabilities they face and a quick time line around which to plan, but then lets the cards fall as they may in terms of whether investors then see adequate reward for new refinery construction without needing any direct handouts from Uncle Sam.
Harmonization of fuel standards. The bill calls for the EPA to come up with a list of only 6 gasoline and diesel blends to be used in the U.S. This strikes me as unambiguously a good idea.
Price gouging. The Federal Trade Commission is charged with investigating and prosecuting "price gouging" during times of national emergencies. The bill offers these guidelines for how that might be done:
In conducting its investigation, the Commission shall treat as evidence of price-gouging any finding that the average price of gasoline available for sale to the public in September, 2005 or thereafter in a market area located in an area designated as a State or National disaster area because of Hurricane Katrina… exceeded the average price of such gasoline in that area for the month of August, 2005, unless the Commission finds substantial evidence that the increase is substantially attributable to additional costs in connection with the production, transportation, delivery, and sale of gasoline in that area or to national or international trends.
Gasoline queue in Guangzhou, China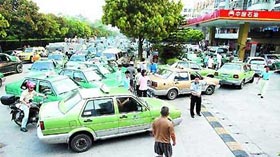 When you buy a stock or a house from someone, do you insist that you are being "gouged" if they sell it to you for a price that differs from their own cost? The price of anything– stocks, houses, gasoline, whatever– should depend on current economic conditions, not historical costs. In these emergencies, gasoline has become much more scarce, and consumers have to reduce consumption. That is the reality of the situation, and an act of Congress does not change that reality. The way that demand reduction is supposed to happen in the United States (though perhaps not in some communist countries) is for the price to go up. HR 3893 would guarantee gasoline shortages for the United States whenever there was a supply disruption that caused the necessary price of gasoline to differ from its historical cost.
Moreover, the whole premise of HR 3893 is that we need more refinery capacity in order to have a buffer for events such as Katrina or Rita. The way a market economy is supposed to provide an incentive for such capacity is to make sure that anyone who invested to create the capacity gets
rewarded financially when it is really needed. The "price gouging" clause of HR 3893 thus works directly to undermine the effectiveness of the rest of the act.
Despite these criticisms, HR 3893 is a vast improvement over the energy bill this summer, in part because, unlike the thousands of pages that the latter ended up consuming, HR 3893 is a lean and trim 67 pages. If the Senate would now cut it down to about a fourth of that, it might actually be a decent piece of legislation.