Does today's CPI release indicate that inflation has returned?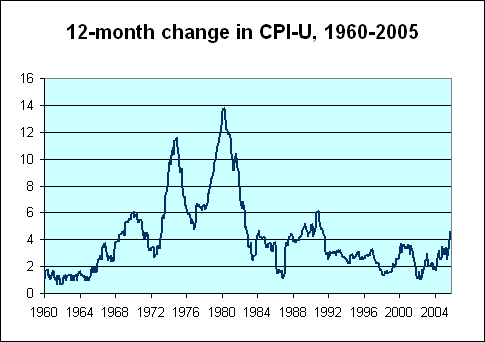 The Bureau of Labor Statistics today released the consumer price index for September, which showed a 4.7% increase relative to September 2004. That's the fastest 12-month rise since 1991 and suggests you'd need to spend almost 5% more dollars now to buy the same things you purchased a year ago.
The big number is entirely accounted for by energy prices. The fuels component of housing, which has a weight of 4.0% in the BLS index, went up 15%, and gasoline, which has a weight of 3.9%, went up 55%. Thus, even if the price of every item other than fuels had been unchanged, the CPI would still have risen by 2.7% over the last year:
(0.040) x (15) + (0.039) x (55) = 2.7
Should you care that the inflation is virtually all energy prices? Not if you're Barry Ritholtz, who correctly observes that this means costs for consumers and firms have gone up, and sees no merit to leaving out the items whose costs have risen the most.
But as Dave Altig cogently argues, if you're the Federal Reserve, you should care a great deal. Alan Greenspan does not have the ability to pump gasoline for free into your car. The Fed can do nothing about the increase in the relative price of fuel. So, if you said that the Fed should keep overall inflation below 2.7%, in order to meet this objective they would have to put so much pressure on the economy that the price of everything other than fuel actually declined. That would undoubtedly mean further drops in real income, which would make it harder, not easier, for you to buy gas and heat your home.
What if you're an investor thinking about buying a bond? What matters to you in that case would be how much the CPI changes between now and the time you get your return in dollars. If your goal is to predict where the CPI is headed, again the empirical evidence suggests you would want to look at what's happening to core inflation rather than outliers such as energy.
And of course, for all three– households, the Fed, and bond-holders– a key question is what the energy shock means for real economic activity. On that score, William Polley notes some other disturbing economic news today– the University of Michigan's index of consumer sentiment has continued to fall, declining from the 76.9 value that had already been a big concern to 75.4 in September.
Pick your poison, inflation or recession. Personally I'm more scared of the second.