Some thoughts on the latest trade price data.
There has been some speculation that, with the huge September month-on-month increase in import prices (corresponding to a 27.6% logarithmic annual rate), the long-awaited adjustment of the current account
deficit has begun. Greenspan conjectured that the current account
was set to stabilize, but that hope was predicated on import prices rising with the falling dollar. The figure at the left (which plots year-on-year changes) seems to provide some hope, but it's important
to distinguish between the rise attributable to rising energy import prices and that due to rising non-energy import prices. Non-oil import prices seem to have risen much less: the month-on-month annualized increase
was 14%.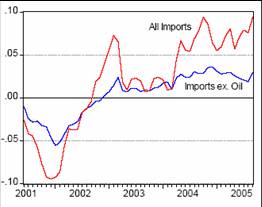 The response of price changes to changes in the exchange rate is called pass through.
The next figure illustrates this relationship between non-oil import price changes and the dollar exchange rate expressed as US$ per basket of foreign currency units (Fed Broad Index). Once again, each change is expressed in
year-on-year changes.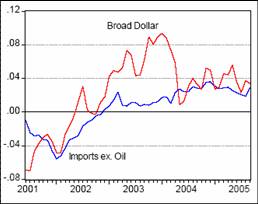 It's hard to see that import price (ex-oil) inflation has picked up on a sustained basis. (A cautionary note: Bloomberg identifies the non-oil import price increase as due to natural gas price increases). But a more careful analysis is required in order to
discern increased pass through. Consider the underlying relationship:

Pimport = S x Pforeignexport

where Pimport is the import price, S is the exchange rate (measured as $/foreign currency unit),
and Pforeignexport is the export price of the foreign country (measured as foreign currency unit per good).
Log the variables, take first differences, posit exogeneity of the right hand side variables, and one obtains the
standard pass through relationship. Careful and extensive studies by the Fed and others has demonstrated that in recent years, exchange rate pass through
has declined from about 0.50 to 0.20.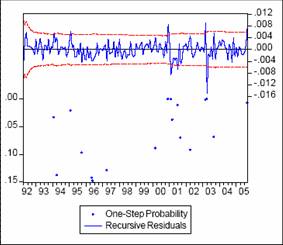 Using BLS end-use monthly import data over the 1989-2005 period, I conducted a quick and dirty analysis (omitting foreign prices), regressing the change in non-oil import prices on current and twelve lags of exchange rate changes and twelve lags of import price changes. I find that the first two lags of
exchange rates' coefficients sum to 0.20. If there is a break from the previous relationship, it might show up as a statistical break. The figure below illustrates the one-step ahead forecast residuals test for this regression. There is a break in 2005.09; but there
are also breaks in 2001 and 2003.


Examination of recursive estimates of the relevant coefficients indicates little evidence of a rise in exchange rate pass through.
Of course, this is only one month's worth of data, and there are many flaws in the analysis (foreign prices are not included, for instance).
Perhaps more important, the assumption that the exchange rate is exogenous is problematic. Exchange rate depreciation and price inflation are both partly
monetary phenomena.


So, short answer, it's too soon to say whether the adjustment process is underway.