Do recent energy shocks mean we might see a replay of the 1970′s stagflation? I believe not, and here's why.
The term "stagflation" was introduced in the 1970′s when the economy simultaneously experienced stagnation of real output growth and an acceleration of inflation. Recent spikes in energy prices have led some to worry about whether we might again find use for this nasty term, with
Capital Spectator, William Polley,
the Oil Drum,
My Left Wing, and
Simply Apalling among the many discussing this concern during the past few weeks.
By "inflation" we refer to a condition in which the dollar price of most goods and services is rising. It is equally accurate to describe it as a condition in which the quantity of goods and services that you can buy with one dollar is falling. It is certainly nonsensical to propose a theory of inflation that makes no reference to the quantity of dollars that are in circulation.
At any point in time, we can measure the total quantity of assets that people hold that can be used directly to pay for purchases. Chief among these would be currency and balances such as checking accounts. This measure is known as the money supply. There are some assets whose categorization might be somewhat ambiguous. Savings accounts, for example, may function very similarly to checking accounts even if you cannot pay for transactions with them directly. These ambiguities give rise to alternative practical measures of the money supply, such as "M1″ which excludes savings accounts and "M2″ which includes them. Given a measure, we define the total quantity of the asset that the public wants to hold as "money demand." Money demand would be a function of variables such as the level of real GDP (Y), the overall level of prices (P), the nominal interest rate (i), and other factors (v):
M = m(Y,P,i,v).
Students sometimes find this notion of "money demand" to be a little confusing, in that you might think that you "demand" all the money there is. But the idea is really no different from talking about the demand for any other item of value. You might have said that you "demand" a 10,000-square-foot house, but not, it turns out, if you actually have to pay for it. Similarly, the economic notion of money demand is that if you want to maintain a higher balance in your checking account, you'll have to sell off some other asset or forego some purchases. Given your reluctance or limited ability to do so, there is indeed some finite level of money balances that you would choose to maintain.
We expect from economic theory that the elasticity of money demand with respect to either of the first two arguments should be about unity. If you plan on buying twice as much in the way of real goods and services (Y twice as big), you'll probably want to maintain about twice as big a balance in your checking account (m twice as big). Or, if everything costs twice as much (P twice as big with Y the same), you'd again likely want twice as large a value for m.
The government can control the total supply of money (the quantity of M that's available) fairly directly. Dollar bills only get into circulation when the government prints them, and dollar checking accounts are regulated in a way that allows the Federal Reserve to direct their total to any desired amount by changing the quantity of reserves (electronic credits for dollar bills) that the Fed itself issues. When the government changes the money supply (M), the variables that influence money demand (Y,P,i,v) must adjust in order to keep money supply (M) equal to money demand (m).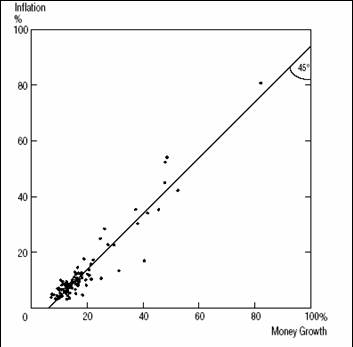 align="right" vspace="4" hspace="14">
Given a value that the government sets for M, it is also clear from the above equation that a change in Y, i, or v could cause inflation (an increase in P). However, the potential of changes in a variable like real output (Y) to affect inflation are inherently pretty limited. Given the near-unit elasticities, if output were to fall by 2% (meaning m would decline by 2%), if the government did not change the money supply M, equilibrium in the money market could be restored with a rise in P of 2%, i.e., 2% inflation. A 2% drop in real output would be a quite dramatic and unusual event, but, even so, we have just seen that the repercussions for inflation should be relatively minor. On the other hand, there is no fundamental limit on how much the government could increase the money supply M. If it increases the money supply by 50%, the natural way that money market equilibrium would be maintained is with a 50% increase in prices (50% inflation). Very high, sustained rates of inflation would be almost impossible to arise as a result of changes in Y,i, or v, but are very easily produced as a result of an increase in the money supply of the same magnitude.
The graph at the right is taken from a study of 110 different countries by George McCandless and Warren Weber. Each dot summarizes the data for a single country. The height of the dot measures the average rate of inflation in that country during 1960-1990, whereas the horizontal coordinate corresponds to the average rate of growth of the money supply (as measured by M2) for that country. The theory sketched above would lead us to expect to see these dots fall along a line with a slope of 45 degrees, which indeed is pretty much the case. No country ever experiences double-digit inflation over many years unless the government has caused its money supply to increase at double-digit rates.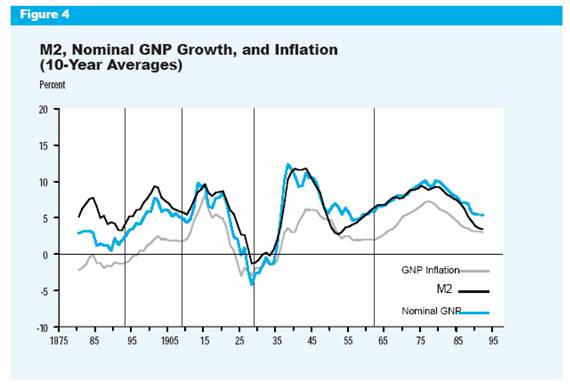 You can also find something similar when you look at data for an individual country such as the United States over a long enough period of time. The above graph comes from a paper by William Dewald which plots the average growth rate of U.S. M2 over 10-year periods compared with the average inflation rates and growth rates of nominal GNP. Surges in inflation in World War I, World War II, and the early 1970′s all coincided with surges in money growth rates. U.S. M2 has grown at a 6% annual rate over the last 10 years, which, with 3-1/2 percent annual real output growth, would be consistent with an inflation rate around 2-1/2 percent.
There are many things we do not understand perfectly in macroeconomics, but how to make inflation is not one of them. If you want a high inflation rate, I guarantee I can develop a government policy to deliver it, namely, print enough money at a fast enough rate. Conversely, if the government refrains from doing this, there is no way that we're going to see enormous rates of inflation.
Although this simple story of inflation does pretty well over broad periods, it's next to useless for purposes of predicting small changes in inflation on a year-to-year basis. This is because if the question you want to ask is whether U.S. inflation over the next year is going to be 2% or 3%, the other factors in the above equation (changes in Y, i, or v) are going to make all the difference. Although in the absence of rapid growth in the money supply, supply shocks could never produce sustained double digit inflation, the energy disruptions of 2005 nevertheless could easily lead to a temporary, modest rise in inflation, through two channels.
The first is the one mentioned earlier. To the extent that the energy shocks lower potential output, for given values of the other variables, that would mean higher inflation. Now, one might argue on the basis of the above equation that the Federal Reserve could counteract this simply enough by reducing the money supply M correspondingly. In my view, however, this would be a mistake. The reason is that one way in which the energy shocks are likely to lower output is by idling capital and labor. Lowering the money supply M is surely going to aggravate this tendency, and the lost output is a deadweight loss that is not benefitting anybody.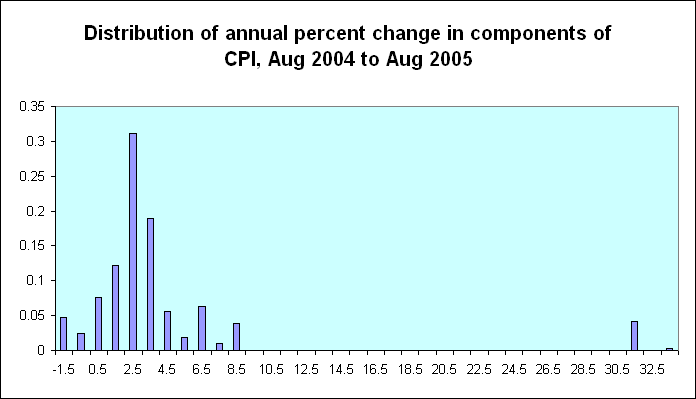 A second reason why the recent energy price shocks are likely to produce a temporary increase in inflation can be seen by looking at the distribution of price changes over the last year. The above histogram (more here) shows how much inflation there was in different expenditure categories of the CPI last year. The lonely pole at the right records the fact that gasoline prices had gone up over 30% as of August; we'll doubtless see an even more impressive outlier when the September data are added in a few days. Fuel costs receive a weight of about 4% in the CPI, and primarily reflect a change in relative prices (gasoline has become more valuable relative to potatoes) rather than inflation (a dollar is less valuable relative to potatoes). This change in relative prices is something that the Federal Reserve has very little power to change or influence. Suppose that the Fed wanted to make sure that the CPI only increased 1% in such a setting, despite the 30% increase in the relative price of fuel. The only way this could be achieved is with a 0.2% decrease in the average price of everything except gasoline,
(0.04) x (30) + (0.96) x (-0.2) = 1.0,
in other words, the Fed would have to force the rest of the economy into deflation. This is something it has the power to do, but again is something that is usually accompanied by substantial wasted resources and lost output.
It makes far more sense for the Fed to go ahead and allow the energy price increases to result in a temporary and modest increase in inflation in order to try to make sure that the output costs are also temporary and modest. As long as this is strictly a temporary relaxation of its inflation target, there is no reason that this need have any implications at all for the Fed's long-run commitment to low inflation. Indeed, the low yields on long-term Treasuries suggest that the market has very little concern about this at the moment.
But isn't a simultaneous slowdown in output growth and increase in inflation exactly what we're talking about with this dreaded "stagflation" term? Yes indeed. But if we were to succeed in keeping both effects small and temporary, there's not so much to dread. The goal is to make sure that neither effect gets out of hand. And at the moment, my bigger concerns are about the output side of the equation.