Tradables and nontradables in the current account adjustment process.
by Menzie Chinn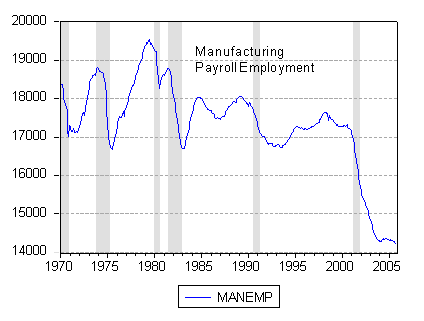 The answer is yes, but not for the reason that many have pointed to. Certainly employment
has declined, fairly precipitously. But it is important to place into context why manufacturing matters. To do this, I need to digress briefly.
In a recent speech, Greenspan asserted that increasing financial globalization has allowed the United States to run
larger current account deficits. This point seems to be well documented; the increasing stocks of US assets and liabilities (denominated in foreign and local currency, respectivley) held abroad have
relaxed the financing constraint during
times of dollar depreciation. However, one question that has been somewhat neglected, but highlighted by
Obstfeld and Rogoff, is whether globalization on the real side has proceeded as rapidly.
This is important because when the US has to adjust to lower capital inflows, its current
account deficit will have to shrink. The 6.5% current account to GDP ratio doesn't sound too large, especially by comparison to deficits run
by other developed countries in other instances. But the adjustment to a smaller current account deficit will have to be accomplished
by more exports and less imports — i.e., adjustment in the tradable goods sector. And here the US differs from, say
the United Kingdom or Sweden, in being much more "closed" to international trade, partly because of size and distance.
What is traded and what is non-traded is easier to define in theory than in practice. In many discussions in decades past, manufacturing
has been equated with tradables. It is in the context of this adjustment process that manufacturing matters. Let's update our view of tradables. In the figure below, two measures of
the share of GDP that is tradable: (1) value added in manufacturing and mining, and (2) value added in manufacturing and mining, agriculture and
professional, scientific and technical services. The former is the traditional proxy, the latter incorporates the increasing tradability of
services, as stressed for instance by Catherine Mann here and elsewhere. (The data are from the BEA).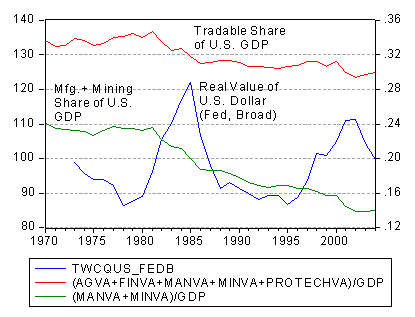 Clearly, the manufacturing and mining series misrepresents the share of GDP that is tradable. The broader measure also exhibits
a downward trend, but less pronounced. But what is interesting is that each bout of dollar strength induces a drop in the measured
"tradable" share. Certainly, both of these measures are flawed — in particular, some manufactures that weren't tradable before are now (think nondurables and air freight), so the downward trend is misleading. But the key point is that, when we need to shift to a smaller
current account deficit, the base upon which the adjustment will occur is relatively small, at about 30% of GDP. The data ends in
2004; presumably, with the boom in housing construction in 2005, the share in tradables will have declined in 2005.
My view is that manufacturing matters, not because of any intrinsic attributes, but rather because the output is
fairly tradable. To the extent that certain services are increasingly tradable, services are also important in the adjustment
process. But there remain large impediments to trade in services, so we need to keep an eye on the share of output in
manufacturing, mining and agriculture.