Gas prices have dropped a lot, and further declines are in sight. What's that mean for fuel demand and the overall economy?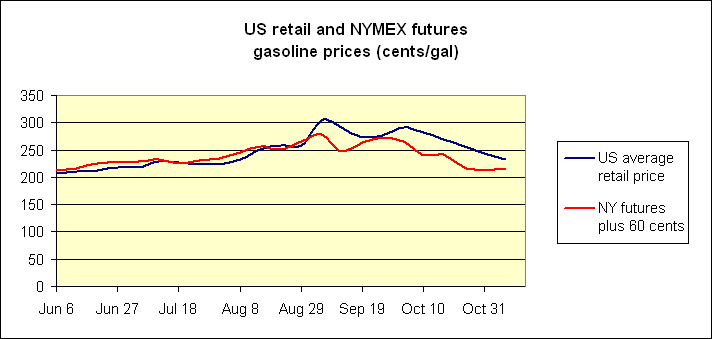 Retail gasoline prices nationwide have fallen 70 cents per gallon from their September highs and are now back to the values from early August. The near-term NYMEX gasoline futures contract is down to values not seen since the beginning of summer, suggesting that another 10 cent drop or more in the retail price could be coming soon.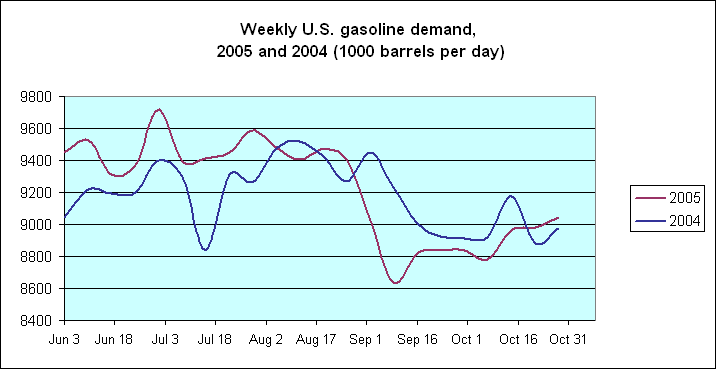 And what about gasoline demand? We don't have direct daily observations on how much gasoline American consumers are burning in their cars, but we do know how much gets purchased by wholesalers, and ultimately that ends up getting used by consumers. The above graph reveals that a very dramatic drop in gasoline sales relative to the previous year accompanied the high gasoline prices of September. Although there is a lot of noise in the weekly values for this series, it is interesting to note that this trend has recently been reversed, with demand for each of the last two weeks higher than it had been in the corresponding weeks of the previous year.
Does this mean we're back where we started in terms of gasoline demand? I would be quite surprised if that proves to be the case. The change in the car-buying habits of the U.S. public has been pretty dramatic. This is the kind of change that will continue to influence gasoline demand for many years to come, as older cars are gradually replaced with more fuel-efficient models. The move away from SUV's was in fact incipient at the start of the year, but the money-losing dealer incentive programs temporarily reversed that trend this summer. The American public did not give up on the big cars very easily, but now that sentiment has shifted, it would be surprising if we moved back again any time soon.
If the oil shock from Katrina is now over, does that mean that we've dodged the bullet of an economic downturn as well? This is far less clear to me. The other shoe of employment losses in autos, airlines, and tourism has yet to drop. The economic consequences of previous oil shocks often took more than half a year to become fully apparent, and key economic indicators continue to paint a very mixed picture at the current time. I therefore remain of the view that things could easily go either way from here.
---
Technorati Tags: gas prices,
gasoline prices,
gasoline demand,
oil prices, oil, petroleum demand,
recession,
Katrina