Does everybody remember this story from July 3?
Oil prices could rocket to $100 within six months, plunging the world into an unprecedented fuel crisis, controversial Texan oil analyst Matt Simmons has warned.
There are 17 more trading days in December for this prophecy to be borne out. But I don't hear Mr. Simmons offering to double-up on this particular wager at this point.
Bubba at the Oil Drum admits to being a little perplexed that we haven't seen more of a move in Simmons' predicted direction given that a third of Gulf of Mexico oil production remains shut in as a result of the earlier hurricanes, with a cumulative loss of a hundred million barrels so far. Bubba notes with derision the predictions of $25-$40 barrel oil from executives and OPEC, and thinks that $200 a barrel could prove closer to the mark, though the focus of such statements seems to have shifted from December 2005 to December 2010.
Data source: EIA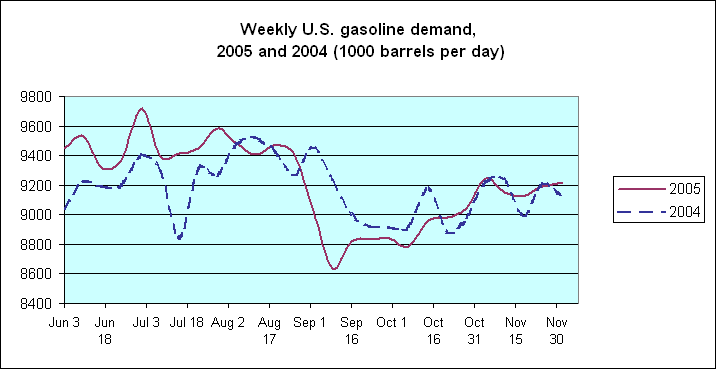 Let me for my part point out that there is an alternative to the positions of the fiercest bulls and bears, which is that oil may be priced correctly about where it is right now. The basic reality that drove prices so high this year was the need to reconcile booming world demand with limited short-run ability to increase production and also to establish a current price consistent with the future depletion concerns to which Bubba refers. This fall's price spike was sufficient to curtail U.S. gas use substantially, and despite big price declines from the September highs, the current level of U.S. gasoline use is about the same as we saw last year. Chinese oil demand, which had increased 18% between 2003 and 2004, was only 3% higher in the first 6 months of 2005 compared with the first six months of 2004. Sixty dollars a barrel seems to have accomplished its mission.
Predicting that oil prices could just stay put around $60 a barrel for the near term doesn't make for the most exciting newspaper copy. On the other hand, if I prove to be wrong, I can at least take some comfort in the fact that, whatever happens, there will be lots of very smart people out there whose predictions were spectacularly farther off the mark than mine.
---
Technorati Tags: peak oil,
oil prices