As long as you're willing to twist (or ignore) enough of the facts, you can continue to be persuaded that the earth is actually flat.
Don Boudreaux offered the following observation a few weeks back:
Yesterday, at a gasoline station that I frequently use, I noticed that the price of a gallon of 87-octane gasoline is down 36 percent to $2.17 — down from $3.39 about six or seven weeks ago. I guess this fact means that oil-company executives are 36 percent less greedy today than they were in mid-September.
I would have thought that this observation might have inspired those of the gas-gouging school of thought to re-evaluate their position. I'm surprised to find some of them claiming that no, this observation just proves they were right all along. Houston's Clear Thinkers notes this exchange between Fox TV new personalities Bill O'Reilly and Neil Cavuto:
CAVUTO: Okay. Gas prices are down a lot. Why do you think that is?

O'REILLY: Because they're afraid they'll go to jail. And those C.E.O.s who manipulated them.

CAVUTO: Why are you sure that they manipulated them?

O'REILLY: I have guys that are inside the five major oil companies– my father used to work for one of those oil companies, by the way– who have told me that in those meetings they look for every way to jack up oil prices after Katrina, every way. When they didn't have to. And they got scared because in my reporting and some other reporting, they said.

CAVUTO: Wait, you're taking credit for gas prices being down?

O'REILLY: My reporting and reporting of others.

CAVUTO: Has nothing to do with refineries that came back online or the crisis calmed after the hurricanes?

O'REILLY: The demand for oil in this country is the same now as it was one day after Hurricane Katrina. It's the same. Selling the same amount of gas and oil.
Isn't it great that we have someone with access to the real inside information to give us the facts? I mean, O'Reilly's father even used to work for an oil company! I wonder if the "guys from the five major oil companies" also mentioned to Bill that:
(1) The annual oil production of BP, Exxon-Mobil, Shell, Chevron, and ConocoPhillips combined in 2004 amounted to only 12% of global oil production.
(2) U.S. gasoline consumption the week of September 16 was 6.2% lower than it had been the week of August 26 and 4.8% lower than the week of December 9.
(3) The following table summarizes the physical consequences of Hurricane Katrina for refineries as of Sept. 5: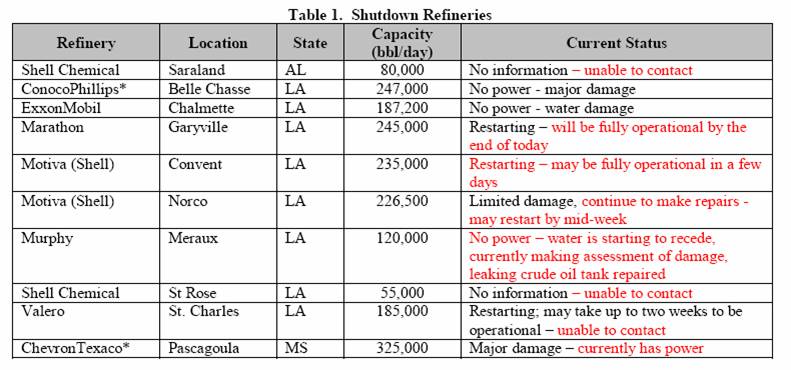 Of these, all but the ConocoPhillips Belle Chasse and Murphy Meraux are now back in operation.
What, none of the "guys" mentioned these facts to Bill? Well, I understand. O'Reilly's pretty busy. He has to report the real story to millions of viewers, you know.
---
Technorati Tags: gas prices,
gasoline prices, oil prices