New IMF quarterly data on central bank reserve holdings

Starting with the 2005 Annual Report, the IMF began reporting (year-end) central bank reserve holdings on a different basis than in previous Reports. Most significantly, it no longer undertook estimation of the currency composition of reserves. This change had a large impact upon the figures for the less developed country central bank holding figures, and hence to a lesser extent for total holdings.


Today, the IMF reported quarterly data on these series, going back to 1995. Below is a time-series graph of "Total", "USD" and "EUR" and "Unallocated" holdings for all (industrial country and less developed country) central bank holdings. "Unallocated" (the black line) denotes reserve holdings in currencies unreported by the central banks.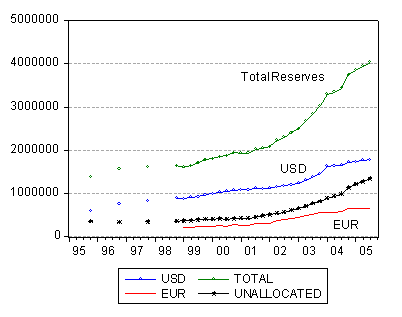 All the data are reported, and documentation provided, at:

Currency Composition of Official Foreign Exchange Reserves (COFER)

One observation: While the dollar reserves series has plateaued since the beginning of 2004, the "Unallocated" series continues to rise. One can only conjecture on what is in this series, although the suspicion is that much of it is in dollars.