Government interest payments are on their way up. Payments to non-residents are going up even faster.


There has been some discussion of the impact of household rising debt service on the macroeconomy. But government debt service is also increasing, as the outstanding debt in private hands and the level of interest rates continue to rise. In the blue line in the figure below, one can see that debt service, as a ratio of GDP, is still quite low relative to the highs of the early 1990's. (Note that the series ends in 2005q3, so it omits the effect of the most recent Fed Funds rate increases).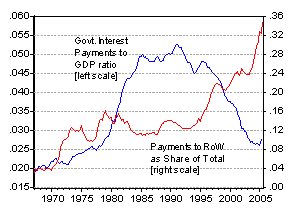 Source: BEA, December 21, 2005 release; Table 3.1. Note interest payments on all government debt, using NIPA definitions.


Perhaps more interesting is the fact that the share of interest payments has shot up to over one-third. This outcome is in line with the development that over half of the privately held U.S. Treasury debt is held by foreigners.


This trend probably has many implications, but the one I wish to focus on is the one relating to the net income balance of the current account. As I mentioned in my earlier earlier post, the net income category was barely in surplus in 2005q3, at half a billion (at seasonally adjusted annual rates). The rising interest rates over the last few months should make a surplus less likely in the fourth quarter. Given trends in government debt accumulation, absent large dollar declines, positive entries are even less likely going forward.