Does the cross-border fragmentation of production mean that measured trade flows are irrelevant?


The BEA's advance release for 2005q4 GDP and net exports won't come out until the 27th of this month, but now seems a good time to step back and consider what conditions will induce a reduction in the trade deficit. (This analysis is drawn from this paper; the graphs report data from the July 2005 release).


In order to take in the big picture, it is necessary to remember that not only do imports far exceed exports, thereby requiring more rapid growth in exports than imports just to keep the balance constant. The proximate cause for this situation is that (1) U.S. growth has exceeded its counterparts, and (2) the income elasticity of U.S. imports exceeds the income elasticity of U.S. exports with respect to rest-of-world income. The second stylized fact, termed the Houthakker-Magee effect, has persisted over over the past 30 years. The gap in elasticities is at least 0.3 for total goods and services. In Chinn (2005), the gap is as high as 0.65. Furthermore, there is little evidence that the asymmetry is disappearing.


In addition, the absolute values of the income elasticities are quite high. They range as high as 2.3 for imports, and 2.0 for exports. These large elasticities are difficult to reconcile with the standard differentiated goods model. From a forecasting standpoint, high income elasticities are not troubling; but from an economic perspective, they are perplexing. In addition, the behavior of trade flows during 1999-2000 is difficult to explain using standard models. As illustrated in the figure below, both series surge in this period.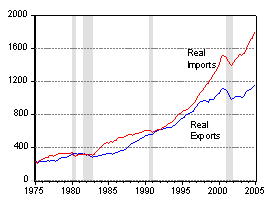 Flows in billions of 2000Ch$, SAAR. Source: Chinn, "Supply Capacity,
Vertical Specialization
and Tariff Rates,"
NBER Working Paper
No. 11719 (Oct. 2005).

Some people argue that traditional measures of trade flows and current account balances don't matter; that many of the imports are from U.S. affiliates, or are used subsequently for exports. I disagree; these flows matter because they measure, to some extent, the trade in goods and services produced using factors of production located in the United States, versus those produced outside the U.S. That does not mean that these issues are unimportant. The trade in intermediate goods used in producing exports (as opposed to used in prouducing domestically consumed goods), does matter insofar as we miscount traded output. The rising share of intermediate goods used in producing exported goods is called vertical specialization by Hummels,Ishii, and Yi (Yi estimates about a third of intra-OECD trade is associated with vertical specialization) or production fragmentation by Arndt and others (here is a nontech description by way of Crooked Timber). (By the way, this is why even though services trade appears to be a small factor in U.S. international trade, it actually is fairly important to the extent that there is less vertical specialization in services trade). What are the real world counterparts to this trade in intermediate goods? Capital goods trade is one proxy.


What is the implication of this for trade flows? This suggests that a lot of the high measured income elasticities could be an artifact of this effect, and at the same time could explain the hump in imports and exports around 2000. In the two figures below, exports of goods and exports of goods excluding capital goods are shown, and the corresponding imports (ex. oil) series.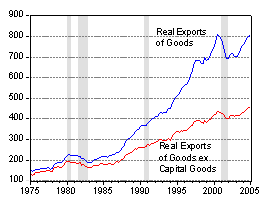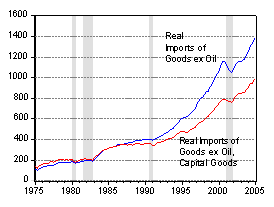 Flows in billions of 2000Ch$, SAAR. Source: Chinn, "Supply Capacity, Vertical Specialization
and Tariff Rates,"
NBER Working Paper
No. 11719 (Oct. 2005).

Vertical specialization — and hence measured trade flows — increases with tariff rates, and these rates have been declining over the post-War era. Regressing total goods flows on incomes thus might yield a misleadingly high estimate of income elasticities. It turns out that if one removes capital goods, the absolute elasticities decline (see the next figure which displays the elasticities estimated by dynamic OLS), but the gap remains the same. Controlling this same aggregate (goods ex. capital goods) with domestic physical investment in equipment and the tariff rate yields even lower estimated elasticities, much closer in line with expected (around unity). In addition, the asymmetry largely disappears.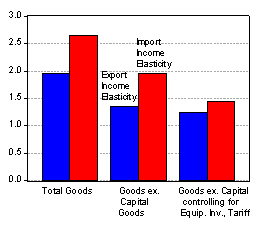 Source: Chinn, "Supply Capacity, Vertical Specialization
and Tariff Rates,"
NBER Working Paper
No. 11719 (Oct. 2005).

It is important to note that there is considerable uncertainty regarding these estimates. And these estimates are sensitive to the treatment of time trends. (Also, because I have no estimate of foreign equipment investment, U.S. equipment investment is used in the export equation).


What does this mean for the adjustment process? Well, recall first that while the income elasticities are now closer to being equal, the fact that imports are so much greater than exports means that shrinking the deficit via realignment of trend income growth rates will be difficult. A similar point is made by Catherine Mann and Katerina Plueck, who use a much finer level of disaggregation to estimate their elasticities.

Another conclusion is that a resurgence in U.S. capital equipment investment would tend to increase the deficit, holding all else constant, while a resurgence abroad might spur faster realignment. That is why revived investment in Europe and Japan would be helpful in global rebalancing on the real side.

Of course, revived investment abroad would eliminate the "global savings glut" that has kept U.S. interest rates low and hence the U.S. net income account portion of the current account near zero. Further rising interest rates would tend to push the
net income account into the negative territory…