Is U.S. monetary policy behind the surge in commodity prices?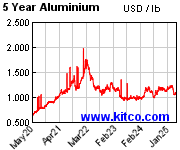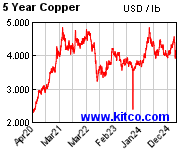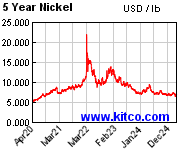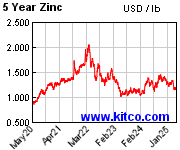 Impressive run-ups in the price of oil and natural gas over the last 5 years have kept energy markets in the headlines. But it is difficult not to see this also as related in part to a broader movement in commodity prices generally. As these graphs from Kitco Base Metals reveal, the dollar price of copper, aluminum, zinc, and nickel have all basically doubled over the last three years.
Jeffrey Frankel, Professor of Economics at Harvard University,
argues that U.S. monetary policy may be part of the explanation. Low real interest rates, he notes, lower the cost of carrying physical inventories and increase the attractiveness of speculating in commodities relative to holding Treasury bills. He documents an impressive historical correlation as revealed by the scatter diagram at the left: those years in which the real interest rate was lowest tended also to be years in which commodity prices were high relative to other prices.
>
The graph below plots the difference between the 3-month Treasury bill rate and the change in the median CPI over the preceding year. It does indeed seem likely that the negative real rates of 2000-2003 contributed to the surging commodity prices of the last few years, just as they surely contributed to the high commodity prices of the 1970′s.
One puzzling aspect of this theory, however, is the fact that the most dramatic surge in commodity prices seems to have materialized during the past few months, when real rates no longer appear to be low by historical standards. Frankel predicts that "As the Fed funds rate goes back up over the coming year, one can expect commodity prices eventually to come back down."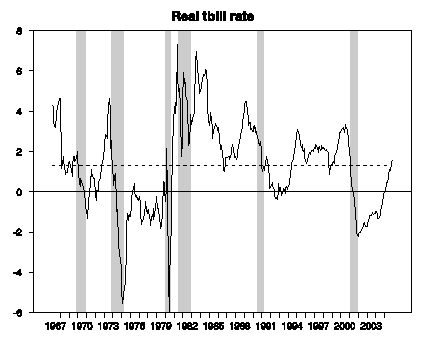 A bold prediction, but I am tempted also to call attention to the very dramatic emergence of the Asian economies, particularly China and India. At least as far as energy is concerned, the historical record suggests rapid growth in the use of raw materials in the early stages of economic development. Given the sheer magnitude of the economic growth in Asia, it is hard to dismiss this as a big factor in the price not just of oil, but perhaps commodities across the board.
align="left" vspace="4" hspace="10">


---
Technorati Tags: commodity prices,
oil prices,
copper