Do economists have a sensible way of thinking about the world?
The dominant framework that economists use for analyzing how the economy works is known as the neoclassical paradigm. According to this world view, consumers, workers, and firms all make a rational calculation as to what is in their own best interests. The aggregation of these rationally motivated behaviors is then used to make predictions about the quantity of goods that get produced and the prices at which they would be sold.
One doesn't need to add much detail to a given decision problem before the calculation of the optimal action becomes extremely complicated. In a dynamic setting with many variables to choose, uncertainty about some of the key magnitudes, and strategic interaction with other actors, figuring out the optimal strategy can be beyond the capabilities of even the fastest computers. There is always a bit of culture shock as graduate students in their first year of an economics Ph.D. program are taught that ordinary people on the street make their decisions using algorithms with which these very smart and capable students had themselves been unfamiliar up until hearing today's lecture.
And there can also be a bit of culture shock when scholars from disciplines outside of economics try to familiarize themselves with how economists think and encounter this theoretical world populated by flawlessly calculating and emotion-free homo economicus.
The Fall 2005 issue of the Journal of Economic Perspectives includes a very interesting effort to communicate to economists from a thoughtful scholar on the other side of the divide. Jonathan Cohen, a professor of psychology at Princeton, relates a variety of evidence from brain imaging studies supporting the view that a broad range of human decisions involve brain mechanisms that are associated with emotional response as distinct from rational analysis.
An example Cohen gives is based on experimental analysis of how people behave in the ultimatum game. In this experiment, the researcher gives a fixed sum (say $100) to one subject (call him Tom). Tom is then told to select an integer amount (for example $10) which he proposes to give to a second subject (say, Bob), and keep the rest ($90) for himself. Bob then has the option either to refuse the deal, in which case Tom and Bob both go home with nothing, or to accept the deal, in which case Bob gets the $10 and Tom keeps the $90 as proposed.
In terms of purely rational calculation, it would in fact never be in Bob's interests to refuse Tom's offer. If Bob says no, he gets nothing. If Bob says yes, he at least gets the $10. If Tom assumes rationality on Bob's part, Tom should therefore offer Bob a measly $1, knowing that a rational Bob would always say yes even to the meagerest offer. The equilibrium prediction for the outcome of the ultimatum game is therefore that Tom ends up with $99 and Bob with $1.
The observed outcome in an experimental setting is that almost no one offers Bob a take as low as $10, and, for those unfortunately clever Toms who do, their Bobs almost invariably refuse the offer, leaving both with nothing. Cohen reported that, for those Bobs who were offered a split of less than 20% of the total, the researcher was more likely to observe stronger neural activity in the anterior insula, an area of the brain associated with negative emotional responses such as physical pain and disgust. The stronger the observed activity in this region of the brain, the more likely the researcher was to observe this particular Bob refuse the offer. According to Cohen,
These findings suggest that when participants reject an unfair offer, it is not the result of a deliberative thought process. Rather, it appears to be the product of a strong (seemingly negative) emotional response.
I would presume that most economists are perfectly willing to concede that many decisions are reached emotionally rather than rationally, and this particular regularity in experimental investigation of the ultimatum game may be an example of exactly this. But let me suggest a few reasons why even an experimental psychologist might be persuaded to take the neoclassical paradigm seriously.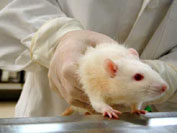 The first is the observation that anybody's behavior can be altered with reward or punishment. In the real world, if behavior A is rewarded by the market and behavior B is punished, most people eventually get trained to select A and keep their emotions under wrap. John Kagel, an economics professor at Ohio State, has performed a number of studies with other researchers using laboratory rats and pigeons which involved changing the "price" the animal had to pay to obtain a certain food, such as the number of times it would have to tap a lever to get the reward. These researchers found the critters responding to price incentives in similar ways to those predicted by neoclassical economic theory.
The second reason I might offer for an experimental psychologist to take the neoclassical paradigm seriously is based on the evolutionary forces induced by market rewards. Those who are unsuccessful in their investments, even if they never themselves learn to be any wiser, will find themselves with less money and therefore less of a vote in determining the equilibrium price. One can devise interesting counterexamples to this proposition. For example, Brad DeLong and coauthors proposed a model of "noise traders", who buy and sell stock equities on the basis of partly faulty information from others who are better informed. It is possible in certain circumstances for the poorly informed to earn a higher return on average than those who are wiser, because the dimwits lack the sense to avoid those stocks which the better informed shun due to their risk. But that very risk gives rise to a higher average return earned on those securities favored by the uninformed, so that, over time, they acquire more and more of the wealth. But such examples seem unlikely to constitute a general rule of investing, and the natural expectation would be that those who are better informed end up controlling more of the wealth.
A third reason that economists adhere to the neoclassical paradigm may be less persuasive to those outside our discipline. This is the fact that the neoclassical approach imposes such a clear structure and discipline in theoretical modeling. If your model implies a certain environment that an economic agent would operate in, then you can't just make up some story about what the person would do in that setting. Either the behavior you've postulated for that person is in their own best interest or it's not, and, if not, you'd generally need some very strong evidence to persuade most economists that it is an accurate description of the economic phenomenon that you are purporting to explain.
I believe that most economists think of the neoclassical paradigm not as a literal description of all human behavior, but rather as a disciplined device for coming up with a first assessment of how a certain market should behave, and surely as something to be calculated as a base for comparison with any alternative scheme. If one does advocate a departure from rationality on the part of some subset of economic actors, we ask (as the noise trading models mentioned above try to deliver) for details of how such behavior persists and is consistent with evolutionary pressures.
So, I feel that there may be a rational basis for believing in homo economicus after all. But perhaps I should subject myself to one of Professor Cohen's brain scans to see what's really going on with my neurons when I make that claim.