Right Wing Bob complains that he can't find a review of the new Twyla Tharp Bob Dylan musical anywhere on the web. Who is Right Wing Bob, you ask? Well, he seems to be the guy with whose lament you end up if you try googling "Bob Dylan Twyla Tharp." So, as a service to RWB and the world at large, Econbrowser offers this musical review.
"The Times They Are A-Changin'" is based on the improbable premise that the music of Bob Dylan is quite danceable and should therefore serve as the basis for a stage musical. Since I have memorized the lyrics of more than a hundred Dylan tunes, and since my wife loves dance, we had to see it.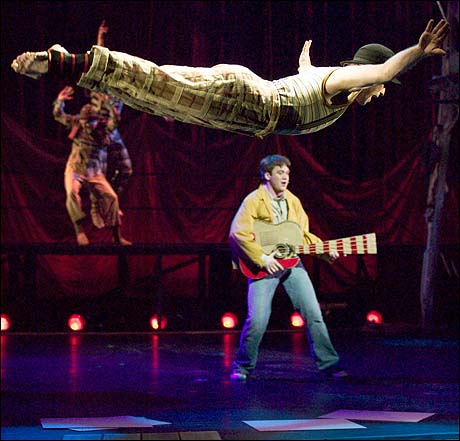 >
The show consists entirely of Bob Dylan compositions, strung together for 90 minutes (no intermission, by the way), and sung by the dancers. The singer/dancers are accompanied by a small electric band that is perched high above stage left because Tharp wanted the orchestra pit reserved for the trampolines. There is a plot– sort of– that is supposed to tie the compositions together, something to do with a son's conflicts with his miscreant father who runs a surreal circus– better not to inquire too fastidiously into the details of all that. Basically the segues string together with the same sort of chaotically creative stream of consciousness that characterizes the lyrics of many of Dylan's songs themselves.
The production follows, faithfully if not chronologically, the many metamorphoses of Dylan's styles, including pining ballads, folk-protest, country-western, and evangelical. But Tharp's favorite appears to be psychedelic rock and roll. The basic goal seems to be to convey through dance, sometimes literally, sometimes metaphorically, the turmoil of thoughts, emotions and images embodied in the songs.
And how exactly do you do that? The show begins with a soliloquy of the title song, "The Times They Are A Changin'", and transitions to "Highway 61 Revisited", in which God is portrayed by Jonathan Nosan, who demonstrates a remarkable capacity for grace, energy, and rhythm while dancing on stilts. Later we see odd human contortions to communicate the creepy examination table of Dr. Filth on "Desolation Row", and big gray exercise balls for "Like a Rolling Stone" that are like, well, rolling stones. Much of the production seems more acrobatics than choreography, as if Twyla Tharp meets Bob Dylan meets Cirque du Soleil, but always capturing the heart and beat of the music, even when the artists are simultaneously skipping between 3 sets of swinging ropes.
If the production struggles for a plot, it also seems to yearn for a unifying message. "Man Gave Names to All the Animals", one of Dylan's religious pieces, ends abruptly with an invitation to remember the Garden of Eden account of Satan and original sin, which for Tharp leads logically into "Masters of War", Dylan's scathing condemnation of those who earn their living making military weapons. In the current sweep of history, the words have a new power and bite, and Tharp follows the tension with "Blowin' in the Wind", though this juxtaposition runs into the fundamental enigma of that song, which so eloquently poses the questions, but has no answers, at a point in the production that one was desperately looking for answers. The best she can do to wrap it all up is end with "Forever Young", a touching quasi-prayer for a good life that may come as close as anything Dylan offered for some kind of resolution of where to go and what to do.
In the end, it's not about either the "plot" or the "message", but simply a celebration of the incredible creativity of both Tharp and Dylan, leaving you continually wondering in awe, how did they come up with all this stuff, as the fountain continues unabated for 90 minutes. My wife and I highly recommend it if you have a chance to see it.