New poll results on energy

Responses to my previous posts here and here regarding the advisability and (political) feasibiity of energy taxes have met with some skepticism. Today's New York Times report "Americans Are Cautiously Open to Gas Tax Rise, Poll Shows", casts a slightly different light on the issue:
Americans are overwhelmingly opposed to a higher federal gasoline tax, but a significant number would go along with an increase if it reduced global warming or made the United States less dependent on foreign oil, according to the latest New York Times/CBS News poll.

:
:
Eighty-five percent of the 1,018 adults polled opposed an increase in the federal gasoline tax, suggesting that politicians have good reason to steer away from so unpopular a measure. But 55 percent said they would support an increase in the tax, which has been 18.4 cents a gallon since 1993, if it did in fact reduce dependence on foreign oil. Fifty-nine percent were in favor if the result was less gasoline consumption and less global warming. The margin of sampling error is plus or minus three percentage points.
Here's the graphic: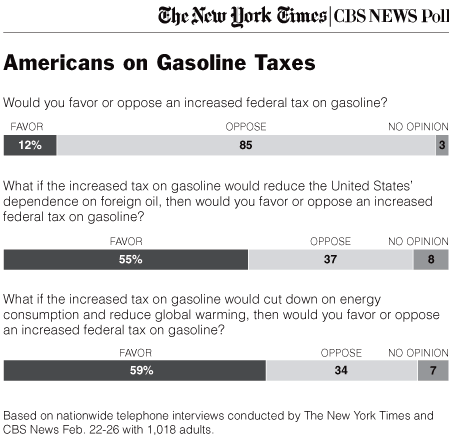 In related news, the FT reports:
President George W. Bush yesterday stepped up his rhetoric about US dependence on oil from the Middle East, warning about the dangers of being dependent on countries where "tyrants control the spigots".

:
:
In remarks at the National Governors Association meeting, Mr Bush said: "I spend a lot of time worrying about disruption of energy because of politics or civil strife in other countries – because tyrants control the spigots. And it is in our national interest that we become less dependent on oil."
Technorati Tags: href="http://www.technorati.com/tags/oil+addiction">oil addiction,
gasoline tax