(Revised) Employment growth is up, but (revised) employment is down.


There were several pieces of interesting news in the Employment situation report for January. Not only was employment growth up, at 193,000 in January; previously reported growth was up as well. My colleague Jim Hamilton has some thoughts on the report. Here I discuss some related aspects of the new figures, placing them in broader context.


In particular, I was intrigued by the report of more rapid growth, so I plotted the data, and found that, indeed growth was more rapid, but the revised level of employment was, as Jim notes, lower than before. This can be seen in this graph: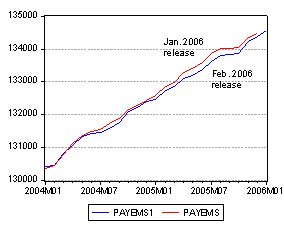 So the annual benchmark revision placed actual payroll employment lower.(Late addition: pgl at Angry Bear seems to have made a similar observation). Indeed, as pointed out in the Washington Post article, the benchmark revision knocked out the miniscule job gain for the first Bush Administration. By December 2004, payroll employment was -76,000 less than in January 2001. Both the payroll employment series, and the household survey based employment series adjusted to conform to the establishment survey coverage, are plotted in the figure below.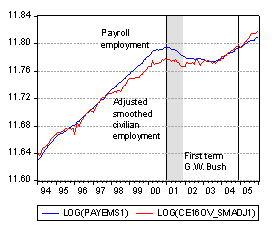 Interestingly, most business commentary seems to take the latest employment figures as indicating robust labor market conditions. To quote Secretary of Treasury John Snow's comments on the report:
"Today we have terrific news that the unemployment rate has now dropped to 4.7 percent– the lowest it has been since July of 2001– and that 193,000 new jobs were created in January. On average, 200,000 jobs have been created each month over the past three months. People who have been unemployed are finding it easier and easier to find jobs. These numbers are a positive indicator that the American economy continues to hold great promise for all Americans who are seeking employment."

In addition to recalling the fact that the unemployment rate depends upon the number of unemployed and the participation rate (as noted by Angry Bear), I think it's still useful to compare the employment growth in this recovery against that in previous recoveries.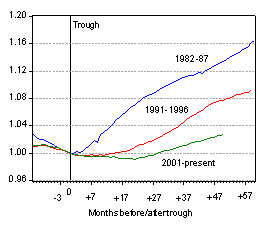 Not only has employment growth been unnaturally low in this recovery, it has been — and remains — low relative to even the post-1991 recovery, which was itself marked by slow job creation. The low employment growth is especially marked given the pace of GDP growth (as pointed out in an earlier post on this subject). Keeping these new data in context might be useful in assessing whether the labor market is doing well or not. (In addition, as Julie Hotchkiss at the Atlanta Fed has noted, the unemployment rate adjusted for discouraged workers is probably higher than the reported — by 0.4 percentage points in December 2004). That being said, I concur with Jim's assessment that sustained growth in employment over the past few months does suggest that 2006q1 GDP growth will be more vigorous than that reported for 2005q4.