Some context for the the latest trade deficit numbers
Yesterday's trade deficit exceeded expectations, yet again. The Bloomberg consensus was for a -$66.5 billion dollar deficit. The actual reading was -$68.5 billion, or a 3% surprise. Now it is important to recall that there is a lot of noise in these trade figures. The standard deviation of the trade balance numbers over the past two years is $6.7 billion, so a $2 billion monthly surprise is not a statistically significant outcome (although $24 on an annualized basis is a big number even when compared against the annual U.S trade balance).


On the other hand, as pointed out by others (see Brad Setser), the picture painted by these numbers reinforces the view that there is no imminent stabilization of the trade deficit at hand. In the figure below, I have normalized the trade balance by the interpolated GDP series (I have assumed 8% nominal growth in GDP in 2006q1, in line with Deutsche Bank's forecast).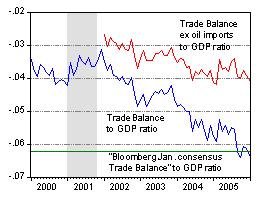 Trade Balance (Balance of Payments basis) to interpolated GDP ratio. Source:
BEA
, Census, and author's calculations.

A glance at the export and import series confirms that the rise in imports — even excluding oil imports — is outpacing the growth in exports.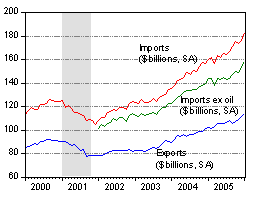 Exports and Imports (total, ex. oil) in billions of dollars, seasonally adjusted.

This trend in exports occurred despite fairly rapid growth in world GDP in 2005q4, as illustrated in the following figure.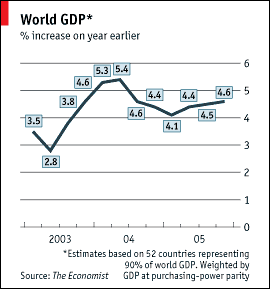 Source:
Economist, March 2, 2006

What will growth in 2006 look like, with US, euro area and Japanese policy rates rising? The Economist survey in the March 9th issue indicates that 2006 Japanese growth will be roughly the same as recorded in 2005, a slight acceleration of growth in the euro area to 1.9% from 1.4 in 2005. So, one should probably not look to the rest of the world for an enormous boost to exports.


What is the real news here. In some ways, it is the context of the downard march in the trade deficit that is important. As the Economic Report of the President, 2006 pointed out, the private financial account and the official financial account (what is sometimes called official reserves transactions) must balance out the current account deficit (see my discussion here). Up until now, that has been easily accomplished, with a good chunk of the financing coming from the official sector (read foreign monetary authorities). With the Dubai Ports World deal now thrown into a state of flux, one has to wonder what terms the rest of the world — the monetary authorities, private investors, and quasi-state entities — will want to lend to the U.S. More savings into Treasuries rather than into physical assets? Or an increased aversion to all U.S. assets (see my colleague Jim Hamilton's early post on that question)? That is the $822 (= $62.5 x 12) billion question.

Technorati Tags: href="http://www.technorati.com/tags/trade+deficits">trade deficits,
oil imports,
Dubai Ports World