Those whose political philosophy is to try to opt for the lesser of two evils may have a hard time choosing their dog in the fight between Senate Democrats and Republicans over gasoline taxes.
Senator Robert Menendez (D-NJ) last week introduced the
Menendez Federal Gas Tax Holiday Amendment which would suspend the federal gas tax for 60 days to "help reduce the cost of gas and diesel for consumers, thereby providing $100 million dollars per day in relief directly to Americans."
Let me begin with a diagram that will be very familiar to anyone who has taken an introductory economics course (or if you prefer the verbal version with no picture, see Arnold Kling). The vertical axis reflects the price the customer pays– the supplier gets this amount minus any tax. The blue supply and demand curves reflect the market outcome under the current arrangement in which there is a tax. I've drawn the supply curve as being rather steep, meaning the price that producers receive has little short-run effect on their willingness or ability to bring a greater quantity of gasoline to the market. The intersection of the blue curves determines the current price, say $3.00 a gallon.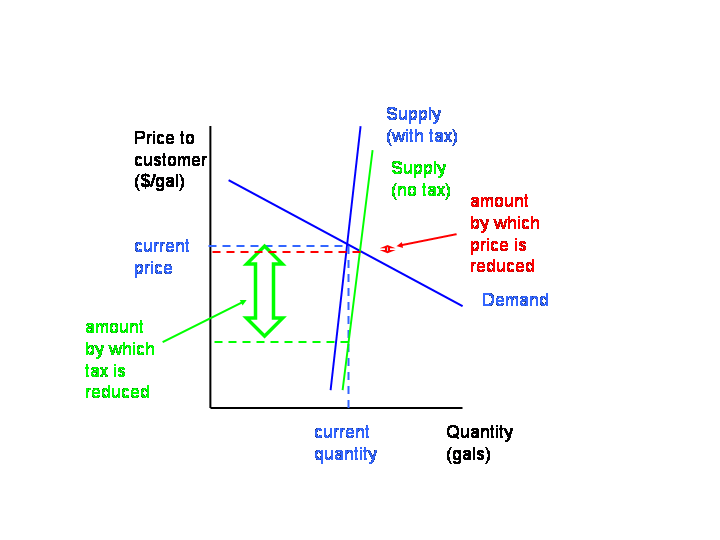 Now, if we eliminated the 18 cents federal gas tax, the customers' behavior, as a function of the price paid at the pump, would of course be the same. The supplier, however, now receives the full $3.00 the customer pays for the gallon, rather than the $2.82. Anyone who previously was willing to sell a given quantity for $3.00 per gallon should now be willing to sell the same amount for $2.82. The result is that the supply curve should shift down by the amount of the tax cut, in this case, shift down by 18 cents to the new green supply curve.
But, a lower price would mean an increase in quantity demanded (as the economy moves along the blue demand curve), and, unless those customers are to be rationed, the resulting equilibrium is where the green supply curve intersects the blue demand curve. As I've drawn the curves (with a very steep supply curve), the result would be essentially no drop in price and a big increase in oil company profits.
If the senators believe that something other than this would be the outcome, then they must have in mind that the supply curve is not as steep as I've drawn it, but instead much flatter. Let's consider what sorts of mechanisms might result in a bigger response of supply to the added profitability of sales that the tax cut produces.
One possibility is that they believe that refiners are in fact quite capable of increasing refinery output, and would willingly do so if it were just a little more profitable. But I know this can't be the senators' thinking because, if they believed that, they'd be aghast at the idea of a windfall profits tax.
A second possibility is that the temporary nature of the tax cut provides a particular incentive to sell gasoline now rather than in the fall, so that perhaps we could get more supply to the market by drawing down inventories. It's true that inventories of crude oil are currently abundant. However, as the picture below from the Energy Information Administration shows, gasoline stocks are a very different matter. Now, there may be some subtleties in interpreting just what the incredibly low current values of gasoline stocks may signify. But does anyone honestly believe that our senators have made a careful investigation of these issues and concluded that current gasoline inventories are way to high and can and should be drawn down even further?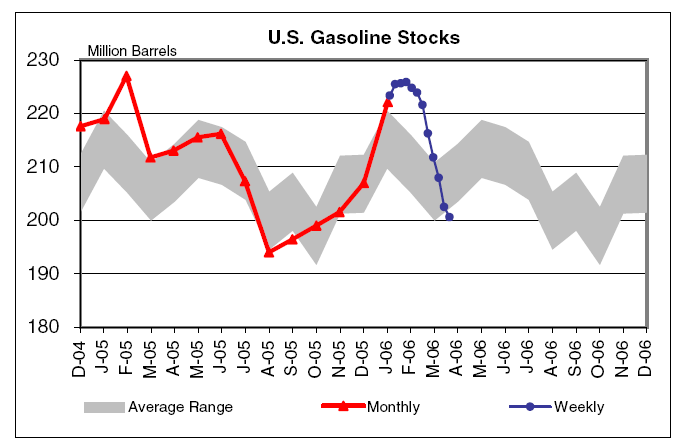 A third possibility is that the higher profitability to gasoline sellers would be an added incentive to import gasoline from abroad, though if it were Congress's intention to provide such incentives, one might think they would have started by doing something about the 54 cent per gallon tariff on imported ethanol that they have imposed. And, if the net effect of diverting gasoline from Europe to the U.S. is that the U.S. Congress forces Europeans to pay even more for their gasoline in order for us to consume even more, I could imagine some people in Europe might be a bit disgusted with us.
And more than a few Americans might be disgusted with us as well.
If the effort actually is successful in reducing the price Americans pay for gasoline, it would do so by increasing imports, worsening the trade deficit, and undermining fuel conservation efforts.
So that brings me to the Republicans' Gas Price Relief and Rebate Act (press release
here, and text here). This is an amendment to the Supplemental Appropriations Bill, cosponsored by Senators Pete Domenici (R-NM), Ted Stevens (R-AK) and Chuck Grassley (R-IA). The Republicans propose to cut through the fog and simply hand each taxpayer an extra $100 when they file their 2006 tax returns, to help pay for gas or whatever. This bizarre proposal raises in stark terms another rather glaring issue for either the Democrat or the Republican plans– whose money is it that is supposed to pay for these nice gifts to the taxpayer-voters?
To be sure, both the Democrats and the Republicans purport to have an answer to this obvious question. Menendez' amendment claims it would be "funded by repealing three unnecessary tax breaks currently enjoyed by oil and gas companies, and also eliminating royalty relief and other production incentives enacted last year as part of the Energy Bill", while Domenici's press release talks more vaguely about repealing "tax incentives for oil companies." This is a favorite game played by the politicians, to pretend that measure X is to be paid for with tax Y. But this is always a complete fantasy. The only kind of money the government collects is green. It all goes into a big pot called revenues, and all comes out in an even bigger fountain called spending. Pretending that revenues Y (and none of the other revenues) pay for program X (and none of the other spending) is simply a ruse to try to convince voters of the worthiness of raising revenue through Y or the relative affordability of spending on X.
If Democrats or Republicans have any proposals for raising additional revenue, either through Y, or Z, or any other means, let's put them on the table on their own right. Even if we pile up everything anyone has suggested for revenue, with no additional spending and no new other tax cuts, deficits will be increasing as far as one can see into the future. There can be no question that, in the current environment, the fiscal source of a marginal dollar of spending on X or new tax giveaway is more government borrowing.
You have to admire the way Mish carries this to its logical conclusion:
How can anyone possibly think that "free money" can be given away with no repercussions? What planet are our senators and congressman from anyway? Isn't the national debt big enough already? If not, why stop at $100? Heck, why not give every citizen in the country $100,000?
I see no alternative but to call these energy proposals for what they are: a blatant effort to bribe the voters, based on the assumption that the voters are too stupid to recognize that they themselves will foot the bill for the bribe, with interest.
Come to think of it, that also seems to be Congress's plan for dealing with Medicare and Social Security.
---
Technorati Tags: gas prices,
gasoline prices,
gas tax