The NYMEX May 2006 crude futures contract closed today above $71.
The explanation that one sees in the popular press often runs along the lines of this report from Bloomberg:
Crude oil traded near a record set earlier today amid concern tension over Iran's nuclear research will erupt into armed conflict and cut exports from the world's fourth-largest producer.

"The political tension over Iran is what has kept the market high, and the president seems to want to rub it in as much as possible," said Bruce Evers, an analyst at Investec Securities in London. "We may see $70 remain through the end of the month. The situation doesn't seem to be getting any closer to resolution."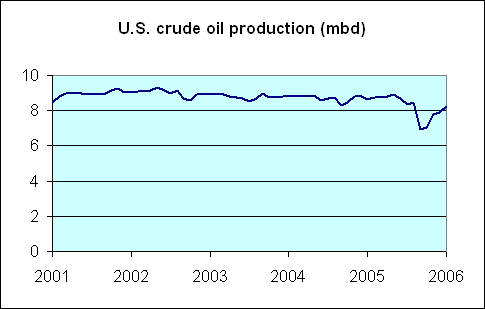 >
I've previously expressed some doubts as to whether worries about Iran are the only factor. For starters, it cannot be irrelevant that U.S. crude oil production in January was half a million barrels per day lower than it had been last summer. At last report, 340,000 barrels of oil production per day remained shut in as a result of Hurricanes Katrina and Rita. And as noted by the Oil Drum, Energy Secretary Samuel Bodman testified before Congress last month that many damaged Gulf oil rigs are never going to be repaired. According to Reuters:
"By and large those production platforms that are out are not going to be put back because it's not economically desirable to reinvest to put those facilities back in place," Bodman told the House Energy and Commerce Committee during a hearing on the Energy Department's proposed 2007 budget.

Bodman said the shut-in production platforms are mostly in old oil and gas fields close to shore.

"They tend to be depleted and it would not economically be viable to reinvest in to rebuild them and the companies haven't done that," he said.
Even if U.S. demand for oil were stagnant, the lost production would mean that much more oil the U.S. needs to buy on world markets. And we're not going to get it from Nigeria, where the International Energy Agency reports that 470,000 barrels per day were shut in during late February as a result of ongoing turmoil in that country.
So far, production gains elsewhere have been insufficient to take up the slack. The graph above, taken from the Oil Drum, suggests that whether you use the figures from EIA or IEA, global petroleum production has yet to get back to the peak reached last year.
And demand remains strong, with U.S. economic growth resuming at a faster pace than some of us had anticipated, and Chinese use of petroleum continuing to climb. If demand is up and supply is stagnant, small wonder if we see the price continue to rise.
A more boring story, perhaps, than that reported elsewhere. But that doesn't mean it's not true.
---
Technorati Tags: oil prices,
oil, Iran