U.S. gasoline prices are again moving quickly up. Some of the politicians who are looking for a scapegoat might do well to look in a mirror.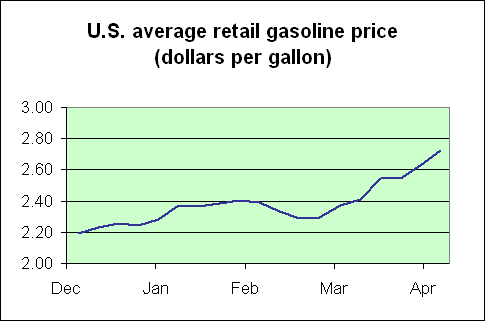 >
After holding fairly steady since November, U.S. gasoline prices started rising quickly in March and are up 40 cents a gallon over the last six weeks. What gives?
Crude oil costs are by far the most important determinant of retail gasoline prices, and crude has exhibited about the same 20% increase as gasoline over this period. I hope to discuss the causes of the resurgence in crude oil prices in a later post, but let me just say at this point that I don't believe there's much that anybody in the U.S. could do to change the price of crude oil over the near term.
But it also appears that U.S. gasoline prices may have received an extra boost from some factors that are uniquely American. Certainly there is the seasonal component to which we've grown accustomed, as the refineries gear up for the summer driving season and the transition from winter to summer fuel requirements. The National Association of Convenience Stores argues that this has become a much more dramatic annual phenomenon since the reformulated gasoline requirements took effect in 2000. And in a memo put out this February, the Department of Energy warned that the problems were likely to be particularly severe this spring:
In 2005, a number of petroleum companies announced their intent to remove methyl tertiary-butyl ether (MTBE) from their gasoline in 2006. Companies' decisions to eliminate MTBE have been driven by State bans due to water contamination concerns, continuing liability exposure from adding MTBE to gasoline, and perceived potential for increased liability exposure due to the elimination of the oxygen content requirement for reformulated gasoline (RFG) included in the Energy Policy Act of 2005….

The rapid switch from MTBE to ethanol could have several impacts on the market that serve to increase the potential for supply dislocations and subsequent price volatility on a local basis. These impacts stem mainly from:

Net loss of gasoline production capacity
Tight ethanol market, limited in the short-run by ethanol-production capacity and transportation capability to move increased volumes to areas of demand
Limited resources and permitting issues hampering gasoline suppliers abilities to quickly get terminal facilities in place to store and blend ethanol
Loss of import supply sources that cannot deliver MTBE-free product, or that cannot produce the high-quality blendstock needed to combine with ethanol
These legislative changes threw new disruptions into the process of gasoline refining and distribution, while the Energy Policy Act of 2005 failed to resolve the patchwork of conflicting fuel standards. Each color on the map below indicates that a different type of fuel is required by law to be sold in that county, requiring specialized facilities for producing and delivering that special fuel type, and producing a particular burden on the system in trying to cope with the transition from MTBE to ethanol.
Have geographic imbalances between types of crude available and the particular refineries capable of receiving that crude and refining it into the locally mandated fuel played a role in this spring's adjustment problems? One indication that they may have comes from a story I saw noted by the Oil Drum and carried in Montana's Billings Gazette and Colorado's Rocky Mountain News, but that I have seen little discussed elsewhere. If you look, for example, at the price that Plains All America Pipeline has offered to pay for crude oil at different locations, a grade like North Dakota's Williston Basin Sweet was selling for a $6 discount relative to West Texas Intermediate one year ago. Today, the discount stands at $19 a barrel, and reached as much as $26 last month, when producers were practically giving Williston Sweet away at $30 a barrel.
The Rocky Mountain News noted this contributing factor:
Colorado's only two refineries, which are in Commerce City, are buying just 30,000 barrels of crude per day from producers, two-thirds less than its typical purchase of 90,000 barrels a day. That's because one of the refinery units caught fire in December and had to shut down temporarily.

The refineries also went offline for scheduled maintenance earlier this year. They are expected to restart at full capacity before the end of March.
I would be curious if any readers have more light to shed on this. But my current reading is that the issue of inadequate refining capacity and matching refining capabilities with specific local needs, although not the biggest factor in gasoline prices, is the one thing that Congress could actually do something to improve, and one thing that Congress actually made worse with the Energy Policy Act of 2005.
So whom do you think that the politicians are going to blame? I'm betting it's not going to be themselves.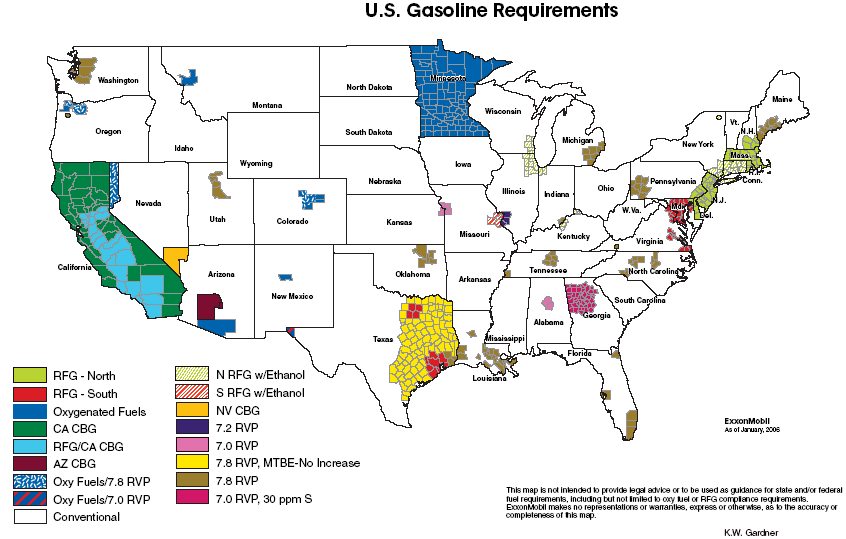 >
---
Technorati Tags: gas prices,
gasoline prices,
Energy Policy Act of 2005,
refining