Does the expected strong 2006:Q1 GDP report mean that the economy will shrug off the recent resurgence of gas prices?
This fall's spike in oil and gasoline prices brought us to the edge of the pit with a good look down. U.S. real GDP grew at an anemic 1.7% annual rate in 2005:Q4, for which ailing autos were the whole story.
Consumer confidence plunged.
Michigan index of consumer sentiment and U.S. recessions (shaded). Data source: FRED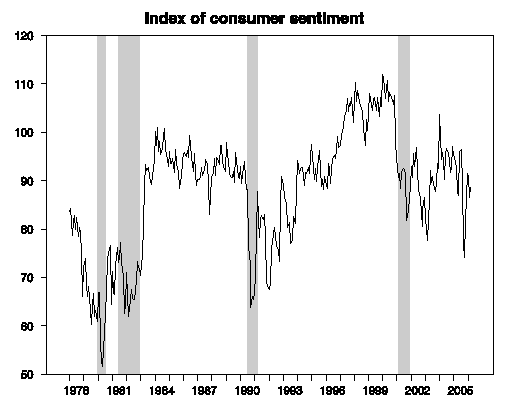 And yet, after the hurricanes, the sun emerged anew. Auto sales, though not robust, recovered from the disastrous autumn, and confidence rebounded. American consumers evidently saw the hurricanes as an inherently short-lived phenomenon.
So the question of the hour is, how will people respond to oil and gas prices jumping back above the levels they reached even at the height of the fall shortages? There are two answers you could propose. One is that, having seen these prices before, consumers will be immune from any sort of panic reaction, and will make the gradual, sensible adjustments in spending that are necessary and beneficial in the long run.

The other possibility is that Americans will be shocked with the discovery that more expensive oil is here to stay and decide that significant changes in lifestyle are immediately called for. If as a result, consumers make sudden changes in plans for spending on such things as cars, durable goods, and vacations, vendors of those products may find themselves left in the lurch.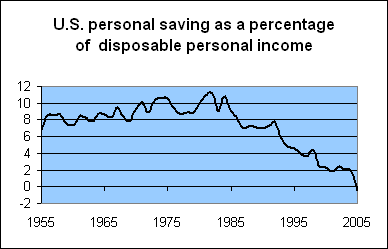 >
Harvard Professor Martin Feldstein has recently argued that consumers may not have much choice this time around. Consumers cushioned themselves from the oil cost shocks last year by dipping into their home equity to keep spending up. Higher interest rates are a strong deterrent to playing the same game this time around.
Nor do the auto makers have much of a cushion left. Ford's $1.2 billion first-quarter loss has investors plenty worried, as has GM's decision to sell off majority interest in GMAC, its one reliable money-maker. Neither company is in a good position to handle a sudden drop in sales.
As noted by Nouriel Roubini, high oil prices can interact with the Fed's ongoing tightening in a number of other ways. Uncertainty about how to handle the commuting options and where the money to pay each month's bills is going to come from could be one more factor to tip the scales for a significant downturn in home sales, and worries about the latter from those who depend for their living on home sales and construction could of course be another factor besides rising gas costs convincing consumers of the need to tighten up.
And even if none of this happens, it is hard to see how $75 oil could mean anything other than a further deterioration of the U.S. trade deficit. If the ultimate resolution of that turns out to be a rapid and unanticipated depreciation of the dollar, it will not be a pretty sight.
So here's my bottom line:

---
Technorati Tags: gas prices,
gasoline prices,
oil,
oil prices