Motor vehicles is one of the key sectors to watch for an indication that the recent gas price spike might derail the current economic expansion.
The overall sales of light vehicles for April weren't so bad, with the number of light trucks sold down 6.8% and passenger cars down 0.2% from April 2005, according to Motor Intelligence. However, those aggregates mask the fact that Toyota (+4.5%) and Honda (+2.6%) scored gains at the expense of GM (-10.7%), Ford (-6.8%), and DaimlerChrysler(-6.2%). Moreover, the move away from SUV's has again become dramatic. The Detroit Free Press reports that sales were down 27.9% for the Chevrolet Trailblazer, 43.0% for the Jeep Grand Cherokee and 42.1% for the Ford Explorer. Green Car Congress reports that sales of full-size SUV's overall were down 25% from the previous year.
Plunging SUV sales may be a good thing from a long-run economic perspective, but it has the potential to make a significant negative contribution to overall economic performance in the short run. If they are large enough, shifts across models and brands can have significant macroeconomic effects even if the aggregate decline in sales is modest, since underutilized labor and capital are not costlessly shifted to the products that may be doing better.
Even so, I agree with this assessment:
David Healy, an automotive analyst with the brokerage Burnham Securities, said the overall results were not as bad as he expected, considering all the media coverage of the rising gas prices. "I thought the gas price panic would have more impact," he said.
But don't forget that much of the gas price increase and concern came later in the month, and so we won't see the full effect on auto sales until the May and June figures come out.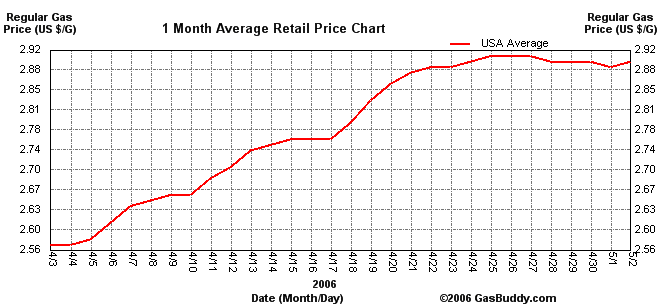 >