Commodity markets have been a little too exciting recently for my quiet tastes.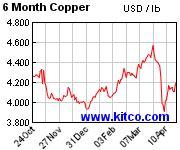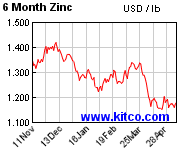 Percent change
Commodity
Jan 3-May 12
May 12-May 15
aluminum
36.3
-5.0
barley
5.4
0.0
beef
-11.5
0.1
coffee
-3.2
-2.0
cocoa
6.0
-1.7
copper
83.0
-2.5
corn
10.8
2.2
cotton
-5.6
-0.9
crude oil
13.6
-3.7
gold
39.4
-4.5
lead
14.8
-5.4
oats
-0.8
0.3
palladium
52.4
-9.1
platinum
35.0
-3.2
silver
59.7
-7.2
tin
42.1
-8.0
wheat
9.9
-2.8
zinc
99.9
-11.3

Up until this week, it had certainly been a spectacular ride for many commodities this year, with copper and zinc, for example, nearly doubling in price since January. One popular interpretation is that this increase in commodity prices signals an incipient resurgence of inflation.
I know this may take all the fun out of the argument, but before we get into a discussion of whether this is or is not inflation, it might be helpful to define what we mean by "inflation." What I mean by "inflation" is a deterioration in the purchasing power of a dollar bill.
Now, isn't it clear that there's quite a bit of that precise phenomenon manifest in the above charts, in that a dollar bill will buy you a whole lot less copper than it did six months ago? Well, yes, but a bushel of oats or a pound of coffee will also buy you a whole lot less copper than they would six months ago as well. And when a bushel of oats buys you a whole lot less copper, I want to describe that as an increase in the relative price of copper rather than as a pure monetary inflation.
The reason I want to use my definition is that I'm particularly interested in whether the Federal Reserve may have been creating too many dollars and thereby contributing to the phenomenon of inflation as I have defined it. I don't find it natural to assume that an excess quantity of dollars being printed should logically result in needing to pay more coffee to get some copper.
It is true that there is a broad tendency for many of these items, particularly the precious metals and commodities used in manufacturing as opposed to agricultural goods, to have moved up together over the last year, suggesting that there is some common cause behind that price surge. Besides the monetary inflation story, another popular account (e.g., see Abnormal Returns or Tim Iacono) is that commodities generally are experiencing a speculative price bubble. Certainly the fact that so many of these prices dropped spectacularly together on Monday would cause one to take this hypothesis seriously, as for example both palladium and zinc dropped by about 10% in a single day.
One challenge for either the monetary inflation or the speculative bubble view of the commodity price movements is the fact that there is such diversity, with some commodities going up a great deal and others not at all. Indeed, these differences across commodities are actually much bigger in magnitude than the average movements common to them all. Although not entirely discounting the potential role of monetary or speculative factors, I'm therefore inclined to try to interpret much of the relative price movements as resulting from the same factors that have always made commodity prices much more cyclically sensitive than other prices. Specifically, the long lead times in production and short-run demand and supply inelasticity mean the price can be particularly sensitive to demand fluctuations. A broad increase in the level of economic activity can thus lead to a broad increase in the relative price of a particular group, though with huge differences across items reflecting the particular factors of supply and demand in each market.
What, then, was the news that caused the spectacular price drops on Monday? I could call attention to bearish indications about American consumers. Some might say, but the commodity price inflation of 2006 has clearly been fueled by global economic activity. Quite true, though if the American economy goes into recession, I'm quite certain that Chinese manufacturing will notice it.
Even so, a 10% price drop in a single day seems a bit much to try to lay all on fundamentals, leading me to wonder if recent market moves might at least in part have resulted from the actions of some speculators who will soon be parted from their wealth.