One leading indicator heads south this week.
Last fall we saw a typical pattern for the first stages of an economic recession. High gas prices created a good deal of anxiety on the part of consumers, whose abrupt slowdown in spending, particularly on motor vehicles, brought GDP growth down from its normal 3.5% annual rate to a 1.7% growth rate for the fourth quarter of 2005. As gas prices came quickly down and the disruptions from the hurricanes were resolved, consumer confidence and spending then rebounded.
With gas here in southern California now up to $3.50 a gallon, it seems prudent to be watching for indications of a replay of the economic performance of last fall.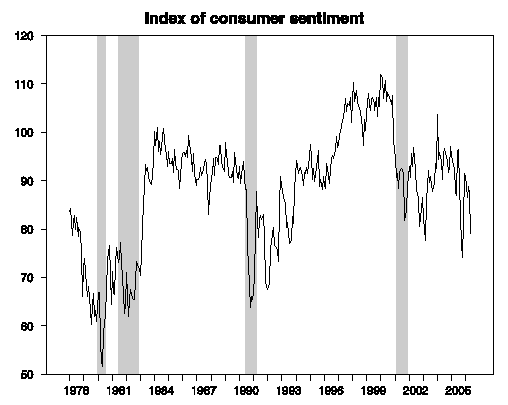 It's thus of some concern that the latest value for the University of Michigan consumer sentiment index has fallen back to the low levels we saw last fall. The graph at the right shows this index, along with historical values and shaded areas denoting economic recessions.
Kash Mansori at Angry Bear shares my concerns, though Dave Altig at Macroblog notes that some analysts were cheered by the reasonable April retail sales figures released by the Commerce Department. These show nominal retail sales overall up $1.8 billion in April over March, a 0.5% increase, or whopping 6% at an annual rate. On the other hand, of this $1.8 B increase, $1.6 B came from sales at gasoline stations.
Yes, we know we're spending more on gas. That's the worry.
Even so, I agree with Dave that the April sales figures paint a picture that mitigates some of the concern raised by the consumer sentiment survey. At this point, I see these developments as something to follow with concern, but not yet cause for panic.