Many publications use energy futures as proxy measures for market expectations of future energy prices. Does this procedure make sense?
Consider the IMF's recent World Economic Outlook, which included a figure with futures a year ago, and in March. While futures a year ago indicated some decline, the most recent reading indicate persistently high prices.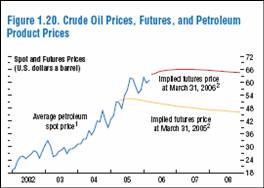 Figure 1.20 from IMF WEO, April 2006.
A relevant question is whether futures are actually good predictors of future spot oil prices. The answer is not obvious — for instance, for currencies futures aren't good predictors. In a paper assessing energy futures, coauthored with Olivier Coibion and Michael LeBlanc, I assessed whether the gap between the futures rate and current spot rate predicts the actual change in the spot oil price. Over the 1990-2004 period, we find that at 3 month, 6 month and one year horizons, regression of actual change on predicted yields coefficients of 1.2, 0.8 and 0.9, respectively. In no case can the null hypothesis of unbiasedness be rejected.

It turns out that in a horse race against a random walk and a simple time series (ARIMA) model, futures do not have the smallest mean error. This outcome is shown in the Table below.



Table 2 from Chinn, Coibion and LeBlanc (2005).
On the other hand, futures do have the smallest mean squared errors. Hence, one could do worse than using futures to assess prospects for oil prices. (See also Wu and McCallum, 2005.) On the other hand, the differences aren't too great between the futures and a random walk (at 3 month horizon) and an ARIMA(1,1,1) — close to a random walk — at the 6 month and one year horizons, thus consistent with this post by James Hamilton on the time series characteristics of oil prices.


One caveat to this conclusion is that our results only apply to horizons of up to one year. The markets further out on the maturity spectrum are very thin, and the characteristics of these futures are unknown. (For more, see also my colleague's posts on this subject, in the context of contango and backwardation, here and here).

Technorati Tags: oil futures, energy prices.