Can natural gas fall this far without oil prices moving more?
A barrel of oil has about six times the energy content of a thousand cubic feet of natural gas. Although they're far from perfect substitutes, some firms can switch between oil and natural gas depending on price and availability. Longer term, consumers or firms making a fixed commitment to oil or natural gas will of course look at the relative prices. Thus one's first guess might be that, over the long run, a barrel of oil should sell for something around six times the price of a thousand cubic feet of natural gas.
The graph below shows that this has been a pretty fair description over the past six years. Up until the last few months, that is, which have left natural gas selling for about half its value from December, while oil is little changed.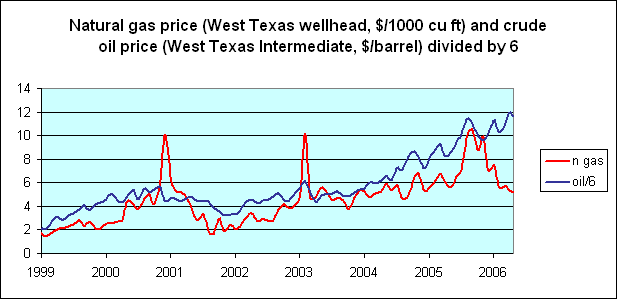 If the historical correlation holds up, something's got to give here. Strikes me as another reason to wonder about oil above $70 a barrel.
---
Technorati Tags: oil prices,
natural gas