Where the ex. oil trade balance is going, and what trade prices are doing.
The BEA/Census released the April trade figures and the BLS the May export/import price figures this morning. The actual $63.4 billion deficit for April (seasonally adjusted figure) was below the Bloomberg consensus of $65 billion, while the 1.6% May increase in import prices exceeded the 0.7% consensus. Here's Bloomberg's coverage and below is a graphical depiction of the time series.


Figure 1: Total goods and services trade balance and total ex petroleum and petroleum products imports, seasonally adjusted. Source: BEA/Census, April 2006 release.
One noteworthy point is that the non-oil trade deficit has leveled off in nominal terms, so in terms relative to GDP, it has fallen. (Of course, what matters more — in some ways — is the trajectory of the total current account deficit relative to the supply of financing, and here we know the net income account is likely to go much further into deficit as interest rates continue their rise.)

As I noted in my previous post on the March 2006 release, the drop off in oil imports was interesting. I also predicted a decline in the real quantity of oil imports (defined as nominal quantity of petroleum and petroleum related energy products, divided by the BLS end use price index for petroleum and petroleum related products; for a discussion of this measure, see this post). This is indeed what happened, according to Figure 2 below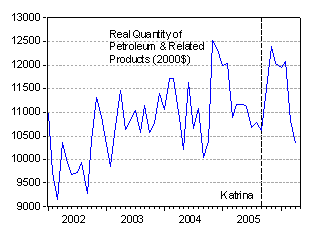 Figure 2: Quantity of petroleum and energy related petroleum product imports, in 2000$, seasonally adjusted. Sources: BEA/Census April 2006, and BLS May 2006 releases.

What about next month? Based upon the time series pattern exhibited in the past two years, expect the quantity of oil & related product imports to decline, even as prices rise; the May index for petroleum and related products rose 5.2 percent (see Figure 3). Something close to a wash for the value of imports may result. Of course, for June and particularly the subsequent months (August, September) of hurricane season, all bets are off.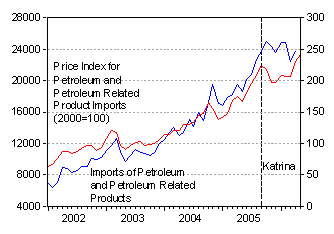 Figure 3: Value and price (2000=100) of petroleum and energy related petroleum product imports, value seasonally adjusted. Sources: BEA/Census, April 2006 release, and BLS, May 2006 release.

As indicated in Figure 1, the non-oil trade balance appears to be stabilizing. Continuation of this phenomenon requires both a moderation of growth in the U.S. versus the rest of the world, and expenditure switching. The latter in turn requires the prices of imports and exports to rise relative to other goods, which should happen as the exchange rate declines. We don't have prices for these at the monthly frequency (because we don't have prices for services as well as goods trade), but we do have goods prices. Figure 4 presents the time path (in logs) of goods import, export prices and the Fed's broad trade weighted dollar exchange rate (expressed so a rise is a depreciation).

Figure 4: Goods Import (ex oil), Export price indices (2000=1) and Nominal trade weighted dollar exchange rate, all in logs. Sources: BLS, May 2006 release, and Federal Reserve Board.

What is remarkable to me is how slowly import prices are adjusting to the depreciation of the dollar. Part of this can be attributed to the hiatus in dollar depreciation in 2005. But this is also a manifestation of the oft-remarked low level of exchange rate pass through in recent years. Time will tell if the rapid depreciation in 2006q2 has a more marked impact in coming months, and indeed whether the low pass-through phenomenon persists.


Other commentary on the trade figures can be found at Calculated Risk and Brad Setser's blog. Setser speculates on the sources of the decline year-on-year in the quantity of oil imports.
Technorati Tags: trade deficits,
oil imports,
oil prices,
pass through