With world oil supplies already stressed by production cutbacks in Nigeria and Saudi Arabia, worries that the Israeli conflict might further disrupt oil shipments have produced new price highs. How does that affect the prospects for an economic downturn?
I have long maintained that the big economic consequences sometimes observed to follow oil price shocks result if labor and capital become idle when demand in certain key sectors drops precipitously. A prime example is the U.S. automobile market, whose domestic manufacturers have historically been very reliant on sales of the less fuel-efficient models.
Data source: U.S. Census Bureau [1], [2].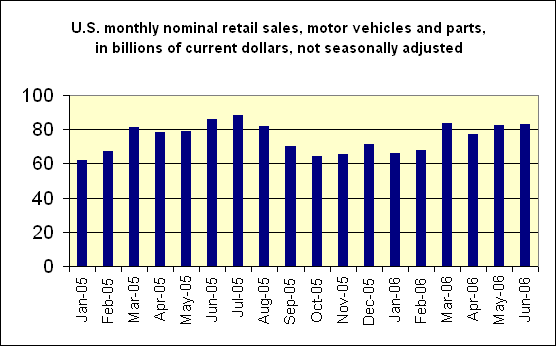 It looked possible that we might see a replay of that familiar historical sequence last fall, as U.S. gasoline prices shot up quickly and car sales and consumer sentiment plummeted. But when prices came back down just as quickly as they had gone up, sales and confidence recovered, and the economy managed to avoid going into a recession.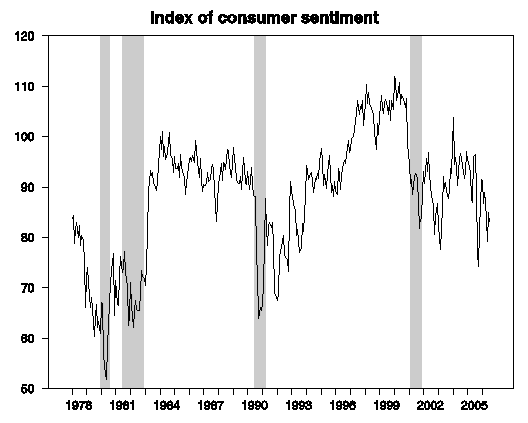 One of the reasons why, in the absence of such demand disruptions, the economic effects of energy price increases should be manageable can be seen from the following argument. Suppose that somebody was previously paying x dollars for their energy bill, and energy prices then go up by y percent. One option for that person is just to go on doing everything pretty much as they were before, spending now xy more dollars on energy and reducing saving or spending on other products by only that amount. With the U.S. currently using about 7.5 billion barrels of oil each year, a $10/barrel increase amounts to $75 billion, which represents a little over half a percent of our $13 trillion GDP. For comparison, an economic recession typically results in a loss of somewhere around 5% of GDP. Something more than the direct loss of purchasing power is needed to produce a full-scale recession.
Data source: EIA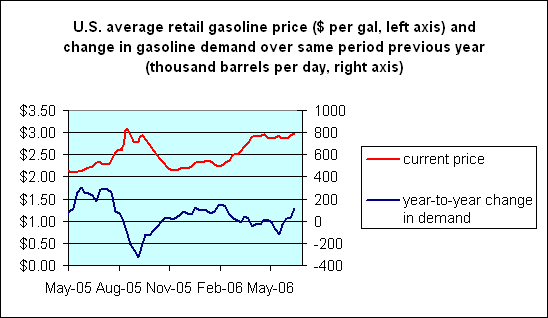 And doing things in about the same way as before may not be a bad description of how many U.S. consumers are currently behaving. I commented last month that a $3.00 price for gasoline seemed sufficient to keep U.S. gasoline demand from growing. However, the data released since then suggest that gasoline demand may have popped right back up, despite rising prices.
Even if we are so far avoiding a replay of big disruptions in spending patterns this time around, giving up a half-percent of what you had, and then another, and then another, is surely going to take a toll on household balance sheets, corporate profit margins, and the trade deficit. The worrisome drop in retail employment noted by Calculated Risk may be one manifestation of that pressure. And I have no trouble imagining that consumer sentiment series making a dramatic plunge downward at any time.
Continuing to do things more or less as we had been was not an option last fall, or in the other historical oil shocks that led to recessions, when the physical nature of the supply disruption required, by hook or by crook, some significant changes in energy use patterns. Nor will doing things as before continue to be an option if the current military conflict in the Middle East does end up leading, for example, to a significant disruption in Iranian oil shipments.
---
Technorati Tags: oil,
oil prices,
oil shocks,
macroeconomics,
recession