Or, why I have to explain to my Money and Banking students that discretionary counter-cyclical fiscal policy is "off the table".
As the discussion of a slowdown, or a recession, becomes more pronounced (see Figure 1 below), it might be useful to think about how the choices made about fiscal policy over the past five years have reduced our choice set.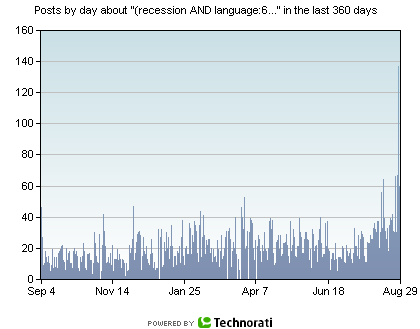 Figure 1:
Word count for "recession" from Technorati, all weblogs "with some authority", August 29.

Previously, I've noted that if (i) growth proceeds at the rate the CBO projects, (ii) discretionary spending grows at the rate of inflation (rather than at the rate of nominal GDP, which it has over the past five years), (iii) the tax cuts of 2001 and 2003 are not extended, (iv) no further fixes to the Alternative Minimum Tax cut are implemented, and (v) spending in Iraq and other theaters of operation remain grow at the rate of inflation, then the deficit to GDP ratio will stabilize at 2 percentage points of GDP for a few years; then as the tax cuts "sunset" in FY2010-2011, the deficit shrinks. Drop (iii), and the deficit stays a constant share of GDP, and the debt-to-GDP ratio continues its rise.

But if there is a slowdown, then what happens to the budget deficit? Well, let's assume a moderate slowdown, so real GDP grows 0 percent grom 2006 to 2007, but resumes its pre-recession growth rate thereafter. Further assume that the elasticity of real tax revenues with respect to real GDP is unity. And finally, to be conservative in assessing effects, assume that transfer outlays (unemployment insurance, AFDC, etc.) all stay unchanged relative to CBO baseline. Then one gets the following picture.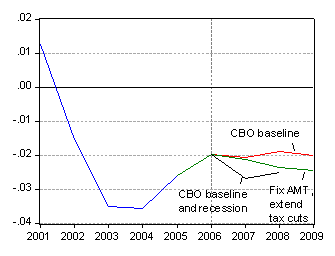 Figure 2:
Federal Budget Surplus to GDP ratio (blue), CBO baseline (red), baseline adjusted for AMT fixes, tax cut extension (green) and recession (w/o tax fixes), fiscal years. Sources:
CBO, The Budget and Economic Outlook: An Update, (August 2006)
,
CBO, "Uncertainty of CBO's Projections of the Budget Deficit or Surplus Under Current Policies," in The Uncertainty of Budget Projections: A Discussion of Data and Methods March 2006
,
CBO, Historical Budget Statistics, January 2006
, and author's calculations.

The red line is the CBO baseline, the green line is the CBO baseline incorporating fixes for the AMT and extension of the 2001 and 2003 tax cuts, and the black line is the recession case (w/o fixing the AMT and w/o extending the tax cuts). What the figure suggests is that if the economy goes into a slowdown (no negative growth assumed in this scenario!), we may find ourselves with a deteriorating fiscal position that constrains our ability to implement to, say, increase the length of time unemployment insurance benefits can be paid out, or to give tax relief. The deterioration may not look that bad, relative to FY 2004, but it is harder to sell bonds in a period when the stock of government debt is much bigger holding all else constant, and when we might — or might not — be able to "rely upon the kindness of strangers", especially if Treasury Secretary Paulson is able to convince the Chinese to allow more rapid Renminbi appreciation.


So after spending a couple lectures explaining the potential uses of fiscal policy to counter recessionary influences, including a portfolio balance definition of crowding out, I'll then tell them about how the fiscal policy of the last five years has made it difficult to use discretionary fiscal policy.
Technorati Tags: href="http://www.technorati.com/tags/recession">recession, href="http://www.technorati.com/tags/budget+deficits">budget deficits
fiscal policy, and
tax cuts