How in the world did hedge fund Amaranth Advisors manage to lose $6 billion in September on natural gas trading?
The traditional notion of a "hedge fund" was that, by simultaneously buying and selling related securities, the fund could maintain a portfolio with the particular risk-return characteristics desired by its clients and earn some extra profit from securities that the market has temporarily misvalued. Long Term Capital Management, which succeeded and then failed in 1998, both in spectacular fashion, prided itself on doing just that. And it's a perfectly reasonable strategy, as long as you don't try to carry it too far.
If I were looking for such a play in recent months, I might well have picked the divergence between natural gas and oil prices, as indeed I argued in a post on May 21 that the natural gas – crude spread had diverged from its long-run tendency. An aggressive hedge fund manager who took my analysis to heart might have tried to make money off it by buying a long-term futures contract on natural gas and selling an offsetting contract on crude oil.
Feeling a little guilty, I was curious to see how badly someone who followed such advice would have been slaughtered. If you'd gone out and bought a June 2011 natural gas contract (the longest maturity contract avoiding the winter seasonal) the day after my post on May 22, the price would have been $6.70 per thousand cubic feet. To unwind the contract, by selling it back to the market at yesterday's price, would only net $6.50 per thousand cubic feet, meaning you lost 20 cents per thousand cubic feet, or about $2,000 on a standard contract of 10,000 million BTU.
June 2011 natural gas contract. Source:
TFC

But the nature of the hedge is that you were also supposed to sell an oil futures contract at the same time. On May 22, the June 2011 crude futures contract sold for $68.75 per barrel, which you could have closed out yesterday by buying at $63.29, a gain of about $5.50 per barrel, or $5,500 on a standard 1,000 barrel contract. So on balance, the hedging strategy– simultaneously buy natural gas and sell crude– would have put you ahead $3,500.
Well, that's a relief– whatever Amaranth did to lose $6 billion, it wasn't by incorporating Econbrowser advice into standard hedge fund strategy. But what was it doing instead?
Let's say you didn't hedge at all, but just bought the natural gas futures, and moreover managed to pick the worst possible day to do so, namely September 20 at $7.07 per 1000 cubic feet. Then you're just plain out $6,000 per contract. However, note that the bottom line on the above graph, labeled "open interest", indicates that the total number of June 2011 contracts currently outstanding is less than 1,000. Even if Amaranth had been the buyer of every single one of these, they still couldn't have lost more than $6 million, or 3 orders of magnitude less than what they did.
March 2007 natural gas contract. Source:
TFC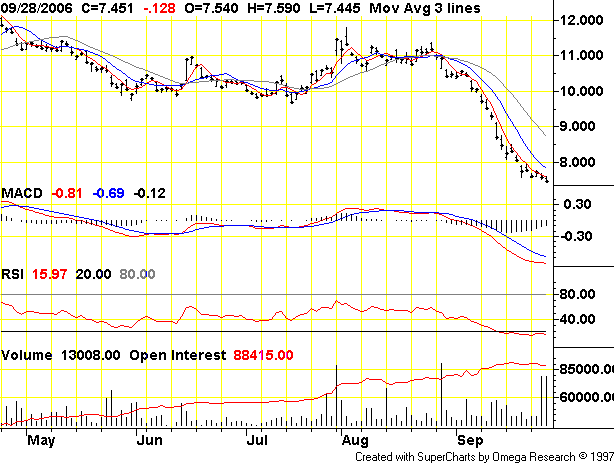 To lose bigger sums, you'd need to be trading in the nearer-term contracts with bigger volumes. Brad DeLong reports that one of Amaranth's games was selling the April 2007 contract and buying the March 2007 contract. With a $3.50 decline in the latter during September, if you held every single one of the 90,000 outstanding contracts, you could lose $3.1 billion. Shorting the April contract would have given you some hedge, cutting your losses to $1.6 billion. I conclude with DeLong and also Nate Hagens at the Oil Drum that the numbers imply that Amaranth must have held a very significant portion of the outstanding volume of a number of different contracts.
I'm guessing that Amaranth may have also been playing this game with other instruments. Selling far-out-of-the-money puts is another strategy that an unscrupulous hedge fund manager could use to assemble a nice track record for a while. For example, if you sell an option that entitles the other party to force you to buy natural gas from them at $8, if they choose, then as long as natural gas stays above $8, you've simply raked in cash with no losses. If all your investors see is the bottom line, you'll look great, until the day of reckoning comes when natural gas actually does fall below $8 and you'll then have to pay up big time.
Of course, if anybody ever audited Amaranth's holdings, they would have seen what was going on immediately, and indeed NYMEX apparently inferred from the volumes that something was wrong and warned Amaranth to reduce its positions. But the way the hedge fund game is often played, foolishly credulous investors never get to see the books and base their decision simply on the fund's track record and slick sales pitch. I have to join Big Picture and
Motley Fool in blaming the folks who supplied Amaranth with capital, rather than the managers themselves. Anyone who tells himself that 35% annual returns with no risk are there to be obtained by some unseen hedge-fund magic is soon to be parted from his wealth.
When you hold a significant portion of the outstanding contracts, you have the potential to move markets in a big way when you liquidate, making your swan song all the more dramatic when it comes. This is what happened to Long Term Capital Management, and it seems likely that a significant part of the September volatility in the graphs above is directly due to Amaranth.
I have often argued (e.g. [1],
[2]) that as long as speculators make a profit, their actions tend to be stabilizing, as they have helped direct resources to where they are most needed. But by that metric, we got $6 billion worth of destabilization out of Amaranth last month. And when I hear a story like this, my first instinct is that there could well be a lot more of this going on. Amaranth's staggering losses leave me more open to the claim that a significant part of the general commodity price increases we have seen in recent years might be the result of actions by speculators who are destined to earn spectacular losses.
Does this suggest some policies we ought to be taking to regulate hedge funds? From a legal perspective, these are often construed simply as partnerships. How in the world would the government presume to dictate whether a small group of investors can buy or sell futures contracts with their own money? Furthermore, if we agree that the basic problem is that the destabilizing funds are going to end up like Amaranth, you'd think losing $6 billion ought to be a pretty strong incentive all by itself.
But then I saw this detail, which brings the story closer to home. It seems that $175 million of the cash that Amaranth had to play with came from the San Diego Employees Retirement Association, which may have lost $87 million on their Amaranth investment.
It seems outrageous to me that a public pension fund would be investing its money in this sort of scheme. However, I could well imagine that the incentives for the pension fund manager are for exactly what a risky hedge fund delivers– a short-run historical track record of unusually good returns, as long as nobody pays too close attention to exactly how you got it.
So here's a regulatory proposal that I could support– no more than 10% of any pension fund's holdings can be invested in institutions whose balance sheets have not been subjected to an arms-length audit.
---
Technorati Tags: Amaranth,
natural gas,
hedge funds,
commodity prices