New home sales could be worse. But don't overlook the seasonals and the fundamentals.
The Census Bureau today released their latest estimates of the number of new homes sold. The seasonally unadjusted figure was 91,000 units sold nationwide in August, exactly the same as the preliminary estimate for July that the Census Department published last month. However, today's release also revised the July figure down to 85,000 units. In other words, since July now turns out to be worse than previously thought, the reported growth from July to August is accordingly positive.

The above graph plots the seasonally unadjusted new home sales data going back to 1989, with vertical lines indicating the August value for each year. It is not unusual for there to be a last gasp of summer that puts the August home sales a little above July. But it has been 20 years since the September figures were any higher than August. The logical direction to expect that things will go from here is down, not up.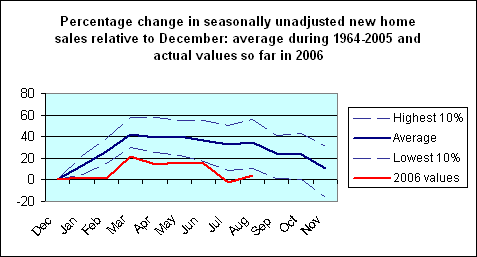 Doubtless many analysts will be watching the seasonally adjusted data for an indication of whether the fall slide this year is any worse than usual. But profits and jobs depend on actually selling a home, not seasonally adjusting a statistic, and realistically we shouldn't expect to see sales return to their current levels until next spring at the earliest.
As we watch and wait, it's important also to keep the fundamentals in mind. As Stephen Kirchner notes, yesterday's strong consumer confidence reading is a positive for home sales. And let us not forget that the prime factor responsible for booming home sales a few years back was low mortgage rates, just as the main factor bringing home sales down this year has been higher mortgage rates. On this score, there has been a modest but quite distinct decline in mortgage rates over the past few months.
And on the bearish side is the question of the extent to which buyers and lenders may have over-reached what can reasonably be expected to be repaid if house prices have now entered an era of decline rather than increase. That's a big, and, to me, frightening unknown.
On balance, while Calculated Risk views the new Census data as very weak, to me they appear a bit stronger than might have been expected on the basis of
some of the other data that have been coming in recently
[1],
[2]. Color me watching, worried, but not panicked.


---
Technorati Tags: macroeconomics,
housing,
seasonal adjustment,
recession