Some analysts, convinced a catastrophe is looming, are starting to jump at shadows. But this week's numbers do not give me much cause for alarm.
William Polley quite appropriately took the New York Times and Martin Crutsinger, economics writer for the Associated Press, to task for trying to twist yesterday's report from the Census Bureau on August retail sales into something negative or worrisome. Sayeth the AP:
Retail sales posted only a modest gain in August as worried consumers got hit anew with sticker-shock at the gasoline pumps. The nation's retailers recorded a tiny 0.2 percent increase following a much bigger 1.4 percent rise in July. It was the weakest performance since sales had actually fallen by 0.5 percent in June.
As if the rate of increase every month is supposed to be bigger than the previous. Here's what the seasonally unadjusted figures actually show:
Data source: href="http://research.stlouisfed.org/fred2/data/RSAFSNA.txt">FRED
Looks to me like the downward trend of the earlier summer was in fact reversed in August, with solid year-to-year comparisons all along. And here are the seasonally adjusted data that the quotation above endeavored to summarize:
Data source: href="http://research.stlouisfed.org/fred2/data/RSAFS.txt">FRED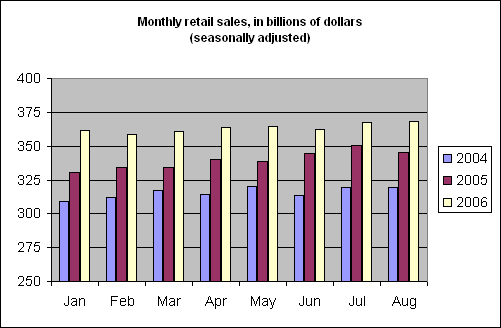 If this is the worst we've got, we're in pretty good shape.
While the AP frets over these seemingly mild-mannered numbers, Macroblog spots something more worrisome in the drop in U.S. Treasury receipts for August:
Data source: href="http://www.fms.treas.gov/mts/mts0806.txt" >U.S. Treasury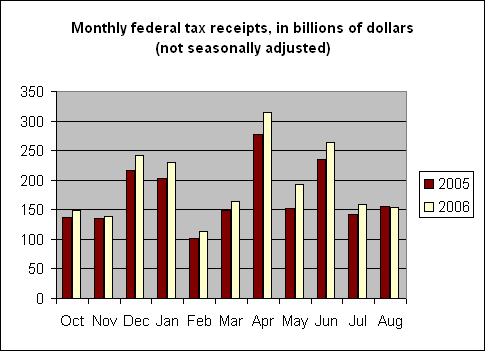 Here is something new, and if a drop in the aggregate level of economic activity is indeed underway, this might be the first subtle indication. But there's so much noise in this particular series, it's just as easy to view this as just another blip.
On the inflation front, I would think the Fed would take some comfort in the declining indicator of expected inflation implied by the nominal-TIPS spread,
not to mention the ongoing dramatic slide in gasoline prices. All of which seems to have left the price of September or October fed funds futures contracts within a basis point of 5.25%, while the November contract is at 5.28%.
In other words, traders are persuaded there is very little chance of any change in the fed funds target at the September 20 FOMC meeting, and give only a token nod toward the possibility of a hike at the October 24/25 meeting.
That sounds about right to me.
---
Technorati Tags: macroeconomics,
Federal Reserve