Data on new home sales and inventories released today from the Census Bureau continue to support the view that the market downturn may have reached its bottom.
Seasonally unadjusted September new home sales of 85,000 units leave us up slightly from the 83,000 units now reported for July. However, consistent with the recent pattern, the apparent July-to-September improvement is largely the result of continuing downward revision of the July sales figure, which had been initially reported to be 91,000, was revised down to 85,000 last month, and is now claimed to have been only 83,000.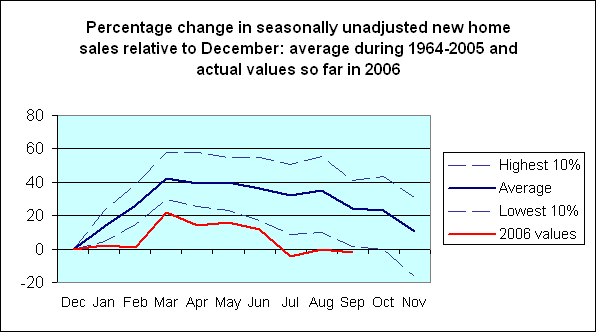 Even though subsequent revisions to the September figure may cause the July-to-September change eventually declared to have been down rather than up, it seems likely not to show as big a drop from summer to fall as is usual for this time of year, in which case the currently reported uptick in seasonally adjusted new home sales could well be preserved:
Seasonally adjusted new home sales, annual rate. Source: FRED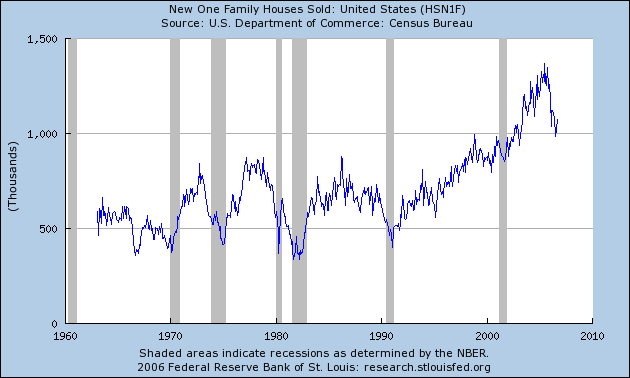 The inventory of unsold new homes had been building sharply over the last year, leaving the ratio of unsold new homes to monthly new home sales comparable to the peak associated with the 1994-95 soft landing, though more mild than the peaks observed in the preceding recessions:
Moreover, looking in more detail to highlight the latest developments, September 2006 is now the second month in a row of improvement in the inventory-sales ratio, though again data revisions may take some of that improvement away: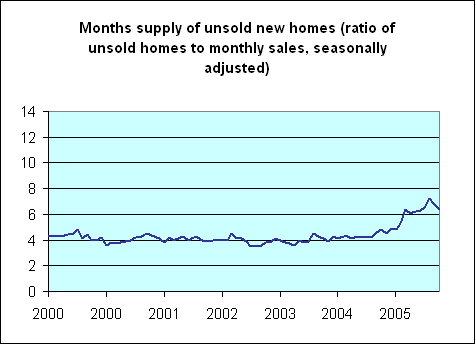 There remain other factors that could produce a further deterioration, specifically:
A presumption of future drops in prices would alter the perceived attractiveness of homes to buyers.
Significant foreclosures may lie ahead.
Calculated Risk believes that over 300,000 construction workers may soon lose their jobs.
Each of these has the potential to change the housing market dynamics significantly. Nevertheless, the data coming in so far appear to be consistent with the claim that this may be as bad as the housing downturn is going to get.
---
Technorati Tags: macroeconomics,
housing,
inflation