Sixteen of the 191 pages that Californians are asked to read in order to vote intelligently in the upcoming election are devoted to discussion of Proposition 87, the Clean Alternative Energy Act. This calls for $4 billion or more in new taxes and spending. In this post, I discuss only the tax side of this proposal, and hopefully will have an opportunity to take up the spending details in a sequel.
California's Clean Alternative Energy Act calls for a new tax to be levied on "any person who takes oil from the earth or water in this state in any manner", stating:
The fee shall be applied to all portions of the gross value of each barrel of oil severed as follows:

(a) 1.5% of the gross value of oil from $10 to $25 per barrel.

(b) 3.0% of the gross value of oil from $25.01 to $40 per barrel.

(c) 4.5% of the gross value of oil from $40.01 to $60 per barrel.

(c) 6.0% of the gross value of oil from $60.01 per barrel and above.
So, if you sell one barrel of oil for $25, do you pay 37.5 cents (1.5% of $25) or 22.5 cents (1.5% of the difference between $25 and $10)? I would have taken the statement above to mean 22.5 cents. However, the legislative analysis that is included in the Official Voter Information Guide concludes that the wording is fundamentally unclear. According to that analysis,
The issue of the application of the tax would presumably be resolved by regulations adopted by the California State Board of Equalization (BOE) and interpretation by the courts.
In other words, according to the instructions that are being distributed to voters, a "yes" vote on Prop 87 means that it is left to a judge to determine what it was that voters actually intended.
Data source:
EIA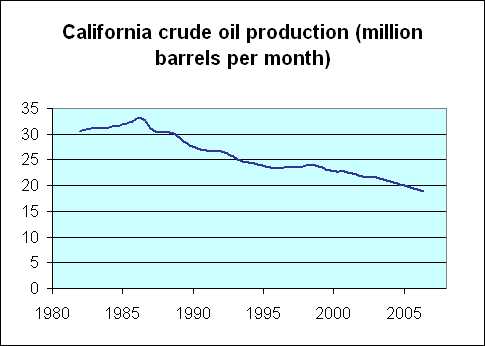 California crude oil production, like that of the United States as a whole, is on a long-term downward trend owing to the failure of new discoveries to keep up with depletion from older fields. The state produces a little over a third of the oil we consume and must import the rest from elsewhere. This proposal taxes the oil produced in California but not any of the oil that we import, giving imported oil a tax advantage relative to that produced here. If you look just at the tax incidence of the proposal, it is inconceivable that the tax change could have any effect other than to reduce the amount of oil California produces and increase the amount we import from other states or countries. And yet, proponents of Proposition 87 advance as one of their arguments the claim that the Act would reduce our dependence on imported oil!
How can it make sense to tax imported oil at a lower rate than that which is produced domestically? One argument might be that oil production has environmental externalities, and Californians prefer to see this environmental degradation occur outside our state boundaries. However, it seems clear to me that the use of oil (both in refining and combustion) entails more significant environmental externalities than production of the kind that currently takes place in California, so if that is the aim, it makes far more sense to tax the users of oil rather than its producers. Furthermore, if the effect is to replace some of the seemingly benign production around Bakersfield with Alberta tar sands or Colorado oil shale, it seems absurd to try to justify that on the basis of environmental considerations.
An alternative justification for taxing domestic production more than imports might be a claim that the U.S. should try to extend the life of domestic resources– perhaps we'll need the oil more later than we do now, and should therefore attempt to import as much oil as we can now while oil is still cheap. However, one of the main margins that producers adjust along when the net price received by the producer falls (as it would under the proposed tax) is to shut down a producing field more early than they otherwise would. Once this is done, it can often be prohibitively expensive to try to go back later and start everything back up. At least some of the oil production that this legislation will discourage will essentially be lost for good.
The only reason I can imagine for a specific tax on California oil producers is the apparent belief by the proponents of the tax that these costs will be borne not by California drivers but instead by big oil companies. One of the most curious features of the Act is Section 42004(c):
The assessment imposed by this part shall not be passed on to consumers through higher prices for oil, gasoline, or diesel fuel. At the request of the authority, the board shall investigate whether a producer, first purchaser, or subsequent purchaser has attempted to gouge consumers by using the assessment as a pretext to materially raise the price of oil, gasoline, or diesel fuel.
The standard explanation economists give for why a tax like this would of course raise the price to consumers is that it will cause the least profitable California oil reserves not to be extracted. With less supply, the price has to rise. This is not a conscious decision of anybody to "pass on" a cost or "gouge" a buyer, but simply is the way that markets work. The designers of this legislation evidently recognized this as a potential concern, and decided simply to rule out the natural and necessary market outcome with the stroke of a pen, leaving yet another job for judges to try to divine whatever California voters must have intended by terms like "pass on" or "gouge".
A far more logical way to raise revenue is with a tax on the gasoline consumed in California rather than a tax on the oil that is produced in California. But that would require Californians to take responsibility for our own problems, and violates Russell Long's immortal principle for the politics of tax revenues: "don't tax you, don't tax me, tax that fellow behind the tree."
---
Technorati Tags: oil prices,
Proposition 87,
Prop 87