Have you heard the latest explanation for how President Bush contrived to lower gasoline prices in time for the election?
An Econbrowser reader calling himself "Alan Greenspend", calls our attention to a post by Russ Winter, which, in Alan's mind, suggests how George Bush might be responsible for falling gasoline prices. I traced the source of this insight back to this story ($$$) in the September 21 Wall Street Journal:
After long shying away from oil, natural gas, metals and other raw materials, investors of all stripes — hedge funds, pension plans, endowments and individual investors — have become enamored with commodity investing. These investors, including short-term speculators, have become key in various markets, sometimes driving prices more than industrial customers who buy the materials to make things or sell services….

For evidence of these investors' influence, consider the Goldman Sachs commodity index, one of the most popular vehicles for betting on raw materials. In July, Goldman Sachs tweaked the index's content by cutting its exposure to gasoline. Investors tracking the index had to adjust their portfolios accordingly — which sent gasoline futures prices tumbling.
Undernews spells out what this means for those slow on the uptake:
Here we have Goldman, qua keeper of the commodities index, manipulating markets simply by adjusting index components…. It lends credence to the theory that the current well-publicized commodities decline is just a well-timed, well-orchestrated head fake to benefit the incumbents in the run up to the midterm elections – someone noted recently that Bush's ratings vary inversely with gas prices.
And Marc Parent reminds us that
the American Treasury Secretary moved to his current job directly from being Chairman and CEO of the Goldman Sachs Group. He took a $38 million pay cut to change jobs.
As conspiracy theories go, this is really quite good. Certainly for something like the S&P500 index, which a huge number of funds simply hold according to mechanical rules, one can see a price change by as much as 3% when a company is listed or delisted, owing to a temporary flood of buys or sells. These liquidity effects can last several weeks. I doubt that mechanical indexed holding of the Sachs index operates on anything like the scale that the S&P500 is used, but I could well imagine there could be a measurable effect of something like this.
November 2006 unleaded gasoline contract. Source:
TFC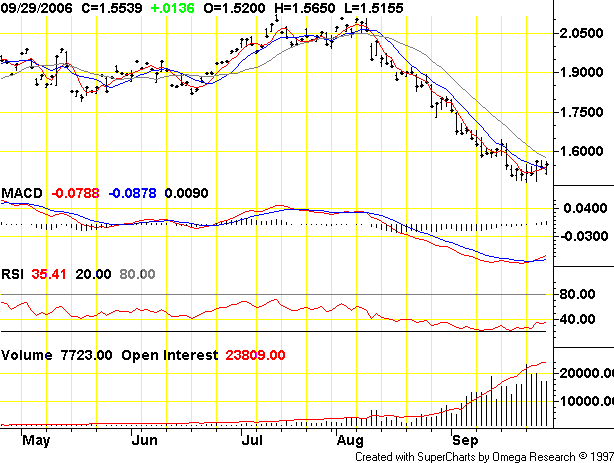 However, there are just a few holes in this theory through which some might try to pick a few nits:
Between July 12 (when Winter says Goldman Sachs announced the change) and August 7, gasoline futures prices did not fall, but instead rose by 3%.
When gasoline futures prices finally did begin to fall, the magnitude of the decline (25%) is far greater than could be attributed to temporary liquidity imbalances.
The most important factor in the drop of gasoline prices has been the drop in the price of crude oil, in which gasoline futures would play no role.
Price effects that result from a flood of sell orders on a market that cannot absorb them are by their nature inherently short-lived, ultimately reversed by the fundamentals of supply and demand. An effect operating through this mechanism in July could not conceivably determine the price of gasoline in November.
But it's such a nice conspiracy theory, I hate to leave it twisting in the wind like this, so let me offer it some assistance. To salvage the theory, you'd have to take the view that both oil and gasoline prices have nothing to do with fundamentals, but instead are entirely determined by the market psychology of speculators. Perhaps then the Goldman Sachs move is alleged to have triggered a massive psychological response in global gasoline and oil markets (and while we're at it, why not gold, copper and zinc as well?). I've earlier examined some of the problems with this view. It also has the feature that anything you observe in the world could be consistent with it. Prices go up? Must have been psychology. Prices go down? Obviously even more confirmation that psychology is responsible!
A theory that has no testable implications is to me not the most promising way to try to make sense of the world. But for some people, that lack of empirical restraint is precisely what makes such a paradigm appealing.
---
Technorati Tags: gasoline prices,
conspiracy,
Goldman Sachs,
commodity prices