There's a lot of evidence of a rising inventory of unsold housing, and a big decline in housing sales. Can a more quantitative, stock-based figure be obtained?
This post is inspired by the questions from Matt and dgsullivan regarding my previous post which cited nominal housing stock figures. I was unsure of how the real housing stock figures fit into the the story of the housing downturn and hence thought a closer look was warranted.


One way of addressing the question is to rely upon a (not the) theory of housing investment. Let H[t] be the housing stock at time t, Y[t] be real GDP, and rH[t] be the real user cost of housing. Assume real output is a Cobb-Douglas function of housing capital (with exponent b) and other inputs. Then taking a partial differential of Y with respect to H yields the marginal product of housing, which in equilibrium should equal rH[t]. Those who know the the neoclassical theory of investment will see a familiar set of steps; whether this is the most appropriate manner in which to model the optimal residential housing stock, I leave to the reader. Re-arranging, one obtains:

H*[t] = bY[t]/rH[t]


The * denotes the equilibrium level. Using the real stock of housing and real GDP from BEA, and the real user cost of housing capital, proxied by the 10 year constant maturity Treasury rate (from FRED II) minus the survey-based 10 year ahead inflation rate (from the Society of Professional Forecasters), I obtain the following regression coefficient estimates:


h*[t] = 2.14 + 0.78(y[t]) – 1.25(rH[t])


where lowercase letters denote the log values. All coefficient estimates are statistically significant.


Using the estimates from the 1991-2005 period, one obtains the following fit in levels. The end 2005 predicted value was about 2 percent (in log terms) below the actual.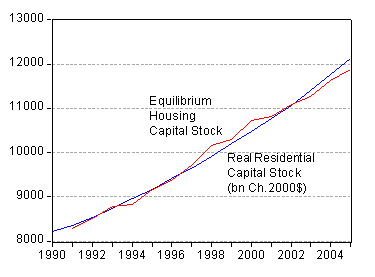 Figure 1:
Actual and estimated equilibrium housing capital stock, in billions of Ch.2000$. Sources: BEA, FRED II, SPF via Philadelphia Fed, and author's calculations.
With the end-2005 residential capital stock at 12.1 trillion Ch.2000$, this implies about a 242 billion Ch.2000$ overhang (not including whatever investment occurred in 2006). Since gross real residential investment in the first three quarters of 2006 is running at 784 billion Ch.2000$ per year, while depreciation is around 200 billion (the amount in 2004; 2005 was more, in part due to Katrina), the overhang is potentially 438+242 = 680 billion ch.2000$.
Another interesting aspect of the data is that the housing capital stock does not appear to move significantly in response to long-run disequilibria in this sample period; rather output and real rates seem to do much of the adjustment in a statistical sense. This result might be an outcome of the sample period, or the model selected.

Caveats: It's not clear how reliable the statistical model is, given that we only have 15 years of data in the regression. Second, this is a completely neoclassical model, without any financial and informational frictions. Hence, this analysis should be taken as nothing more than a first cut, and certainly not to be taken as an alternative to flow-based analyses of residential sector investment.
Technorati Tags: housing,
residential capital stock,
residential investment, and
user cost of capital