Distortion versus effective subsidy.
On Monday afternoon, I'll be Econoblogging on WSJ with Kash from The Street Light on the implications of a dollar decline, but this piece of news from China provides a nice segue into that topic. From FT:
"Ben Bernanke, chairman of US Federal Reserve, stepped into a political minefield on Friday when he released remarks branding China's undervalued currency an "effective subsidy" for its exporters which was distorting patterns of production and trade.



In what looked to be a last minute bid to avoid controversy, Mr Bernanke then dropped the phrase from his speech to the Chinese Academy of Social sciences, using the less inflammatory term "distortion" instead.



Mr Bernanke's original text talked about "the effective subsidy that an undervalued currency provides for Chinese firms that focus on exporting rather than producing for the domestic market."



This phrase — even though not finally uttered by the Fed chief — is likely to be seized on by US manufacturers who have long pressed US government agencies to make the same determination in trade cases.



A Fed spokeswoman said Mr Bernanke's decision to drop the word "subsidy" was "a spontaneous decision" aimed at enhancing the clarity of his remarks.



She said the Fed had not been asked to drop the term by anyone in the US administration delegation in Beijing for the final day of the high-level strategic economic dialogue."



The Fed is standing by the language of the original text, which is posted on its website, and has not repudiated the view that the currency regime does amount to an "effective subsidy."



As in the prepared text, Mr Bernanke called on China to embrace "further appreciation of the renminbi, combined with a wider trading band and with the ultimate goal of a market-determined exchange rate."



He said this would "allow an effective and independent monetary policy" that would help promote "growth and stability."

The full text of the speech is on the Fed's website here.
Personally, I think that both descriptions are, from an economic perspective, apt. But "effective subsidy" provides ammunition to protectionists, and that's not in the world economy's interests. After all, effective subsidies are everywhere, including the United States and other developed countries (just teach a course in trade policy, and you'll get a feeling for that; or take a look at Boeing — or Airbus, to be balanced).

So (going out on a limb), I think that Bernanke did the right thing in his talk — provide intellectual support for the position that it is in the interest of both the United States and China (overall, although not necessarily the exporters) to allow more rapid yuan appreciation (which already appears to be happening — see Figure 1 below).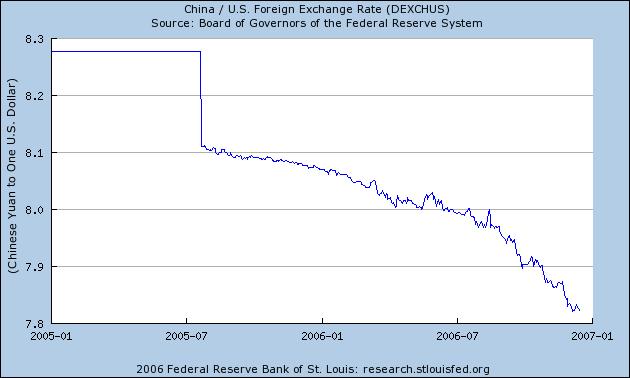 Figure 1:
CNY/USD, daily. Source: St. Louis Fed FREDII.
I say this, still believing that faster revaluation of the yuan will not come anywhere near remedying the U.S. trade deficit, in the absence of fiscal consolidation. It'll largely re-allocate the deficit to other (primarily East Asian) countries. But it will serve to facilitate global rebalancing, and to still some of the protectionist voices in the United States.
But more of that on Monday.
More coverage: WSJ Washington Wire, WSJ, Reuters via NYT, and a trade related article from Reuters.
Technorati Tags: China,
Ben Bernanke,
effective subsidy,
yuan