A survey of trends in income inequality, and some thoughts on what policy responses might be appropriate.
There has been a tremendous amount of discussion, and misinformation, regarding this issue. In fact, some observers even deny the existence of a trend toward greater income inequality (e.g., here). A welcome anodyne to such treatments is provided by the San Francisco Fed's President Janet Yellen in "Economic Inequality in the United States":

"Given these two developments — more macro stability and more rapid labor productivity growth — it is tempting to conclude that most Americans are feeling "better off." But a glance at the newspapers suggests that this is not necessarily the case…



Looking beyond the headline numbers on the macro economy provides some clues to the source of this discomfort. In particular, over the past three decades, much of the gain from excellent macroeconomic performance has gone to just a small segment of the population—those already in the upper part of the distribution. As a result, inequality has grown. This inequality, coupled with increased turbulence in family incomes associated with job displacement and restructuring, sheds substantial light on the sources of the disappointment and concern that show up in the opinion polls."

These trends are depicted in Figure 1 from the FRBSF Economic Letter.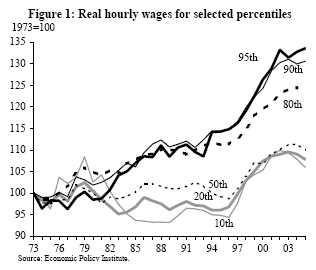 Figure 1:
Source:
Yellen, FRBSF Economic Letter 2006-33-34 (December 1, 2006).
Yellen continues with a closer examination of some of the hypotheses, including those regarding education, globalization, and the interaction of these factors with technology. She also spends time discussing how the magic of the marketplace (my words) might not always work efficiently.
"Globalization in combination with advances in technology, especially communications technology, leads to similar patterns. At the upper end, it has boosted demand for those who have the skills to manage large, complex, global operations. In contrast, an increasing share of domestic jobs in the middle of the wage spectrum has experienced lower demand because companies can now look all over the world for workers able to perform computer programming tasks, communications tasks, and similar jobs—even medical services. At the same time, such outsourcing is far less feasible for manual jobs and for service jobs that require face-to-face interactions and lie at the low end of the wage distribution.



These changes in technology and growing globalization go a long way towards explaining the inequality trends I have described. And there certainly are other factors that have also likely played a role. For example, the fall in the real value of the minimum wage appears to have especially depressed the wages of less-skilled women, while declines in unionization particularly impacted the wages of less-skilled men. However, none of these factors provides a complete and compelling explanation for the rapid growth of real wages at the very top of the distribution, the top 1%, which, according to IRS data, doubled between 1972 and 2001.



The market forces of changing technology and rising globalization, broadly understood, may matter to some degree for this group. For example, these forces have substantially increased the size of the markets that American companies serve. This has, in turn, increased the impact of individuals who are at the very top end of the talent and skill distributions—and who tend to be in very short supply. These individuals include so-called superstars, such as top entertainers and athletes, highly successful investment bankers and venture capitalists, and perhaps CEOs, although the latter point is hotly debated. For example, people had a high demand to see Michael Jordan perform—far higher than the demand for even a large number of average NBA players—and technology enabled his performances to be broadcast to a very large worldwide audience at relatively low cost. It's not surprising that he, and other superstars, could earn very large incomes (Rosen 1981).



The superstar argument is less clear-cut with CEO salaries, in part because a CEO's contribution to the bottom line of a corporation is difficult to measure. Some argue that CEO compensation has been driven up by market forces, like the large increase in the size of many American companies, which increases the potential benefit of hiring the right CEO from the limited pool of candidates (Gabaix and Landier 2006).



Another possible explanation is the so-called "tournament" model, in which the CEO's direct contribution to the bottom line is not so much of an issue. This model suggests that large pay differentials for those at the top of an organization function as incentives for lower-ranked executives to compete for those positions, in other words, to work harder in order to win the top spots themselves one day. The resulting increase in effort generates benefits for the company that go well beyond the direct contribution made by the CEO (Lazear and Rosen 1981).



While such competitive factors may matter, I cannot ignore the concerns that have been raised of late regarding corporate standards for executive pay-setting. Some observers have argued that corporate boards are increasingly beholden to the CEOs whose salaries they determine; as a result, CEO salaries may be inadequately monitored and sometimes set higher than market conditions or company performance merits. Critics of rising executive compensation also have pointed to inappropriate reliance on compensation schemes that hide payments from shareholders and the market—for example, the backdating of stock options for top executives, which increases executive payouts without properly reflecting the resulting costs in corporate balance sheets.



The hidden nature of these payouts may reflect an imbalance in the setting of executive pay relative to shareholder returns and worker pay more generally. Issues like these quite naturally raise concerns for the public and contribute to feelings of dissatisfaction."

I think from my perspective the most important part of this speech is the recognition of what can — and cannot — be accomplished by various policy measures.

"…it's not uncommon to hear proposals to put up barriers to trade as a way to mitigate economic disruption and inequality. I don't think that is the way to go. By providing for specialization in production across countries, trade enhances the size of the economic "pie" here and abroad, and in doing so, enhances overall economic welfare. I think we should look to other policy tools to address inequality, and I will attempt to provide a useful overview of some key considerations.



I will begin with education. There can be little doubt that programs that support investment in education, broadly conceived, are worthwhile. Increasing skill has been a significant source of productivity growth. Moreover, since the gap between the earnings of workers with more and less skill in part represents the return to education, a widening of that gap clearly signals the need for such investment to increase the supply of higher-skilled workers.



But investment in education takes resources, which complicates the debate: the resources are limited and to a large degree should be directed to where they will pay the highest return. At the college level, one possibility is just to "let the market work." If college pays off, more young people will enroll. Indeed, the rising returns to education at the upper end of the earnings distribution did precede an increase in college attendance through the mid-1990s, suggesting that market forces may have worked as expected. Since then, however, despite further growth in the returns to college and advanced degrees, college attendance has flattened out. For example, enrollment rates among recent high school graduates hovered around 65% between 1996 and 2004, after increasing noticeably in the preceding decade (NCES 2005)."

I find it of interest that the Bush Administration on several occasions attempted to cut funding for student loans programs. At the same time, several state governments have over the past few years reduced state funding for higher education. In the context of this analysis, these are wrongheaded moves. Inadequate funding of "No Child Left Behind" (a.k.a. "unfunded mandates") is also susceptible to this same criticism.

Beyond education and training, the U.S. has long deployed an array of policy tools to combat inequality and diminish economic insecurity. One example is the earned income tax credit, which supplements the earnings of low-income workers. Unemployment and disability insurance cushion family income in the face of job loss and illness, while Social Security shelters many elderly households from poverty. Indeed, inequality in consumption among U.S. families is notably lower than inequality in pre-tax income due to these programs and others that involve the direct provision of services such as healthcare, housing, childcare, and food stamps to families in need. The real question is whether government should and can do more.



"To assess the value of and potential need for additional government intervention, it is instructive to draw some comparisons between the U.S. and other countries. In regard to inequality, over the past few decades it has risen more in the U.S. than in most other advanced industrial countries in the Organization for Economic Cooperation and Development (OECD). Indeed, by most measures, the U.S. ranks near the top (some might say the bottom) in terms of household income inequality. The inequality gap in the United States is associated with higher levels of overall and child poverty relative to a majority of OECD countries.8



This high and growing level of relative inequality in the U.S. reflects, in part, differences in the "social safety net." Among the 30 OECD countries, the U.S. ranks above only Mexico, Korea, and Ireland in gross public social expenditures as a share of GDP spending, and it does the least to target government taxes and transfers towards moving families out of poverty. Not surprisingly, outcomes such as infant mortality and life expectancy are worse in the U.S. than in most advanced industrial countries. As for workplace protections, unemployment insurance in the U.S. replaces a smaller share of income and offers benefits of shorter duration, while the minimum wage is quite low relative to average wages in the U.S. Moreover, U.S. firms face far fewer restrictions in their ability to fire or lay off workers than do firms in most other OECD countries.



Other countries' efforts to mitigate inequality and provide a safety net may come at a price, however, since these efforts may hinder job growth and intensify unemployment, especially for young and less-skilled workers…"

She concludes:

"… The possible responses to rising inequality do not boil down to "either/or" kinds of solutions. Rather, these responses range along a fairly wide continuum, reflecting the tradeoffs that policymakers face between efficiency and equity. Certainly some market-determined income differences are needed to create incentives to work, invest, and take risks. However, there are signs that rising inequality is intensifying resistance to globalization, impairing social cohesion, and could, ultimately, undermine American democracy. Improvements in education are an imperative for reducing inequality and an easily justifiable investment, given its high social return. In contrast, improvements in the social safety net entail costs, even when policy interventions are well-designed from an efficiency standpoint. Even so, in my opinion, they deserve high policy priority. Inequality has risen to the point that it seems to me worthwhile for the U.S. to seriously consider taking the risk of making our economy more rewarding for more of the people."
So, at the risk of being repetitive, I think these remarks support my assertion that it's not enough to "Just say 'no'" to protectionism. One has to develop a popular consensus, and build a constituency, for an open trading regime. Doing so might require laissez-faire adherents to jettison objections to measures that minimize economic uncertainty.
[Late Addition 12/29/06: I now realize that Mark Thoma at Economists View scooped me on this one with a post back on November 6th].
Technorati Tags: href="http://www.technorati.com/tags/trade">trade,
Janet Yellen,
income inequality,
globalization, education