Where are expenditure rates now? Where might they go?
Reuters notes:
"U.S. costs for the Iraq war will exceed $110 billion in the fiscal year through October 2007 — more than $2 billion a week — approaching the record reached in the prior fiscal year, White House budget director Rob Portman said on Tuesday."
This estimate apparently does not take into account the possible "surge" of troops being considered by the President. The resulting monthly burn rate is $9.17 billion (9.17 bdpm). I have not been able to obtain from public sources any estimates for what a plausible "surge" would cost. However, the following AP article is suggestive:

"In the latest indicator of the war's financial costs, White House budget chief Rob Portman told reporters Tuesday it was unlikely this year's price tag would be less than last year's $120 billion. Congress already has approved $70 billion toward this year's price tag, and Bush long has been expected to request an additional $100 billion or more in February."
A total of $170 billion for operations in the Iraqi and Afghani theaters of operation, plus other operations related to the Global War on Terror, represents a 41.67% increase over the $120 billion in FY 2006. Assuming expenditures for operations in the Iraqi theater of operations rise proportionately, then the implied burn rate is $11.3 billion per month (11.3 bdpm). I plot the time series for monthly burn rates below. For FY 2007, the blue bar represents low estimate, while the top of the magenta bar represents the high estimate.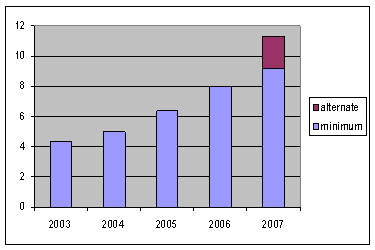 Figure 1: Monthly burn rate for Iraq Theater of Operations, in billions of dollars per month (bdpm), by fiscal year. Source: For FY2003-06, Amy Belasco, "The Cost of Iraq, Afghanistan, and Other Global
War on Terror Operations Since 9/11," Congressional Research Service Report RL33110, September 22, 2006, Table 5. For FY 2007, author's calculations based upon reported figures (see text).



As I mentioned in an earlier post from October, these "burn rates" do not include "reset costs" for replacing worn out and damaged equipment. To repeat, the CRS report states:

"CBO and Service Estimates of Reset Costs. How large is the likely
reset bill and how might that affect DOD's baseline budget? Last year, in March 2005, CBO estimated that the backlog of maintenance and replacement costs for warworn equipment was about $13 billion, about the same as the services' estimates at that time, and that annual repair and replacement costs would run about $8 billion a
year based on the current pace of operations. These CBO estimates, however, do not reflect substantial procurement funding received by DOD in the FY2005 Supplemental, the FY2006 bridge fund, DOD's baseline or regular budgets, or requested in the FY2006 supplemental. The House Appropriations Committee, for example, estimated that about $8 billion in the FY2006 bridge fund was for replacing
worn equipment.



In its most recent alternative funding path for GWOT, CBO estimates that about $60 billion would be needed through FY2016 assuming a gradual drawdown in deployed forces from about 258,000 in FY2006 to a steady state of 73,000 in FY2010. This estimate does not include the $24 billion in procurement funds appropriated or requested in FY2006, much of which is probably for reset."

I outsource the depiction of additional trends to Brooking's Iraq Index (Nina Kamp, Michael O'Hanlon and Amy Unikewicz):
Figure 2:
Source:
Nina Kamp, Michael O'Hanlon and Amy Unikewicz, "The State of Iraq: An Update," NYT, December 20, 2006.
Technorati Tags: href="http://www.technorati.com/tags/Iraq">Iraq, href="http://www.technorati.com/tags/reset">reset,
casualties,
defense expenditures, burn rate.