In testimony before the Senate Budget Committee yesterday, Fed Chair Ben Bernanke once again tells it like it is.
File picture from CNN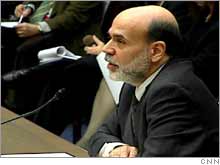 Here's some of what Bernanke had to say to the senators:
[T]he deficit in the unified federal budget declined for a second year in fiscal year 2006, falling to $248 billion from $319 billion in fiscal 2005…. Unfortunately, we are experiencing what seems likely to be the calm before the storm….

In fiscal 2006, federal spending for Social Security, Medicare, and Medicaid together totaled about 40 percent of federal expenditures, or roughly 8-1/2 percent of GDP…. By 2030, according to the CBO, they will reach about 15 percent of GDP….

The large projected increases in future entitlement spending have two principal sources. First, like many other industrial countries, the United States has entered what is likely to be a long period of demographic transition, the result both of the reduction in fertility that followed the post-World War II baby boom and of ongoing increases in life expectancy….

The second cause of rising entitlement spending is the expected continued increase in medical costs per beneficiary. Projections of future medical costs are fraught with uncertainty, but history suggests that– without significant changes in policy– these costs are likely to continue to rise more quickly than incomes, at least for the foreseeable future. Together with the aging of the population, ongoing increases in medical costs will lead to a rapid expansion of Medicare and Medicaid expenditures….

[O]ne plausible scenario is based on the assumptions that (1) federal retirement and health spending will follow the CBO's intermediate projection; (2) defense spending will drift down over time as a percentage of GDP; (3) other non-interest spending will grow roughly in line with GDP; and (4) federal revenues will remain close to their historical share of GDP– that is, about where they are today. Under these assumptions, the CBO calculates that, by 2030, the federal budget deficit will approach 9 percent of GDP– more than four times greater as a share of GDP than the deficit in fiscal year 2006.
Some might wonder why the Chair of the Fed should be lecturing Congress about fiscal policy. I can think of three good reasons. First, the deficit makes the Fed's job of controlling inflation considerably harder. Many of us are persuaded that the large fiscal deficits are one important factor behind the U.S. current account deficit, and that the current account deficit in turn is likely to lead to depreciation of the dollar, which would add to inflationary pressures. And a bigger federal deficit means that a higher interest rate needs to be maintained by the Fed in order to achieve a given target for inflation, compared with what would be necessary with a balanced budget.
A second reason why budget deficits are an appropriate concern for monetary policy-makers is that, one way or another, the debt run-up is going to be stopped, if not by our own self-control, then by the refusal of creditors to roll over the loans. I was surprised at how blunt the Fed Chair was in spelling out what this could mean:
According to the CBO projection that I have been discussing, interest payments on the government's debt will reach 4-1/2 percent of GDP in 2030, nearly three times their current size relative to national output. Under this scenario, the ratio of federal debt held by the public to GDP would climb from 37 percent currently to roughly 100 percent in 2030 and would continue to grow exponentially after that. The only time in U.S. history that the debt-to-GDP ratio has been in the neighborhood of 100 percent was during World War II. People at that time understood the situation to be temporary and expected deficits and the debt-to-GDP ratio to fall rapidly after the war, as in fact they did. In contrast, under the scenario I have been discussing, the debt-to-GDP ratio would rise far into the future at an accelerating rate. Ultimately, this expansion of debt would spark a fiscal crisis, which could be addressed only by very sharp spending cuts or tax increases, or both.
I don't imagine that Bernanke or anyone else would relish handling the reins of monetary policy if we were to arrive at such a point.
A third reason that it is extremely appropriate for Bernanke to raise these issues is that there has been an astonishing immaturity on the part of our elected officials in Washington to openly acknowledge the problem and talk realistically about what needs to be done. As a respected third party, Bernanke has a unique opportunity and responsibility to be the one grown-up at this party. I think he was quite wise to avoid framing the issue in partisan terms. Bernanke does not presume to tell the senators how in particular to address these problems, but only that they need to do something.
I just hope they were all listening.
---