Two stories this week give me some concern.
From Reuters:
Aluminum prices and volatility may surge further over coming weeks as a fund with an already large exposure slowly tightens its grip via the options market.

Data have shown one player controlling more than 90 percent of available or on warrant stocks of aluminum– about 600,000 tonnes worth about $1.6 billion– in London Metal Exchange warehouses.

Analysts and traders think that player is a U.S. hedge fund, but would not name it. The large holding has made the market nervous and pushed up volatility.

Traders think the same fund has been building on its LME position using call options giving it the right to buy three-month aluminum futures at a fixed price in February.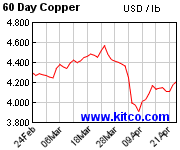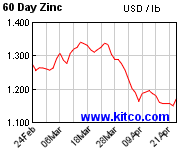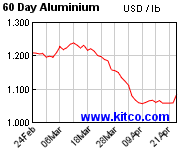 Commodity speculation will help the economy allocate resources more efficiently when speculators earn their profits by correctly anticipating movements in fundamentals. But if instead speculators buy high and sell low, they are creating problems for themselves and all the rest of us. The above reports suggest to me that we may have another case like the Amaranth Hedge Fund– somebody foolishly thinking they can manipulate the market, and then getting so deeply into trouble that they keep doubling up the bet in hopes of bailing themselves out.
And if you're looking for more things to worry about, it always pays to visit Nouriel Roubini, who describes a hedge-fund leverage process that works like a Ponzi scheme:
You start with 20,000 euros invested by some investors into a hedge fund of funds; this is all equity. Then, this fund of funds borrows– at a leverage ratio of three– and invests the initial capital and the borrowed funds into an hedge fund. Then this hedge fund takes this fund of funds investment and borrow– at a leverage ratio of two– and invests the raised capital and the borrowed funds into a deeply subordinated tranches of a Collateralized Debt Obligation (that is itself a highly levered instrument with a leverage ratio of nine). So the final investment of 1 million has behind it 20,000 of equity capital and 980,000 of debt. So, if the value/price of the final investment falls by only 2% the entire capital behind it is wiped out. This is a credit house of cards where a dollar of capital is turned into 49 dollars of additional debt to finance an investment of 50. The systemic dangers/risks of this fragile credit house of cards are complicated to assess as they depend on how much of this debt/credit accumulation is concentrated or spread among many financial intermediaries. But, at face value, this kind of leverage ratios looks scary.
As I've warned before, an investor is foolish to judge profitability on the basis solely of recent performance– schemes like the one above may record some spectacular short run profits but will eventually wipe you out with probability one. But if you haven't seen the balance sheet of the fund in which you're investing (and the balance sheets of its investments in turn), there's really no way to be sure whether this is what's being done with your money.
Let me then repeat my recommendation that no more than 10% of the assets of any pension fund should be held in enterprises for which there is no publicly available audit. I would also favor restrictions on commodity exchanges that no more than, say, 40% of the outstanding volume on a given contract or $500 million total capitalization, whichever is larger, should be held by any one entity.
And my advice to individual investors remains: if you want to hold on to your money, make sure you understand how you earned it.
---
Technorati Tags: hedge funds,
commodity prices