Another week of some wildly contradictory employment indicators.
Automatic Data Processing (ADP), which provides an advance estimate of total U.S. monthly employment growth based on the records the company maintains of a quarter-million business clients covering 14 million employees, gave many of
us a scare Wednesday when it estimated that U.S. employment fell by 40,000 jobs in December. But today the Bureau of Labor Statistics said that no, nonfarm payrolls (NFP) were up a robust 167,000 based on their survey of establishments and a whopping 303,000 based on their survey of households.
The respective estimates each have their own strengths and weaknesses. For example, ADP and NFP do not have a reliable measure of nonpayroll work or employment by new establishments, while the household survey is particularly likely to miss people who change their residence immediately after they lose their job. The reaction of many people to such disparate indicators is simply to disregard several of the measures or even to ignore all three. However, each indicator is picking up some things that the other two are missing, and I've argued that the best statistical approach in such settings is to combine the information from all three. I've been using a weighted average based on the assumption that the NFP is considerably more reliable than either of the other two, giving NFP a weight of 80% and each of the others 10%. For example, the BLS had initially claimed that NFP had risen by 132,000 in November, but the other two indicators were more optimistic, so I wrote last month that a better estimate for November was closer to 150,000. It is interesting that today's release from BLS indeed revised their November estimate up to 154,000.
Applying that same approach to this month's ADP, NFP, and household numbers gives an estimate for December employment growth of 160,000– given how bearish the ADP numbers were, the initial NFP estimate is likely too optimistic. However, the number could be revised quite a bit below 167,000 and still be better than many of us were expecting. In any case, job growth proved sufficient to prevent the unemployment rate from rising above its previous 4.5%. Calculated Risk notes that although construction employment has now fallen 134,000 since February, total employment growth remains strong.
Still, that initial ADP report left me wondering– what would we be saying today if the NFP and household survey had agreed that December employment fell by 40,000?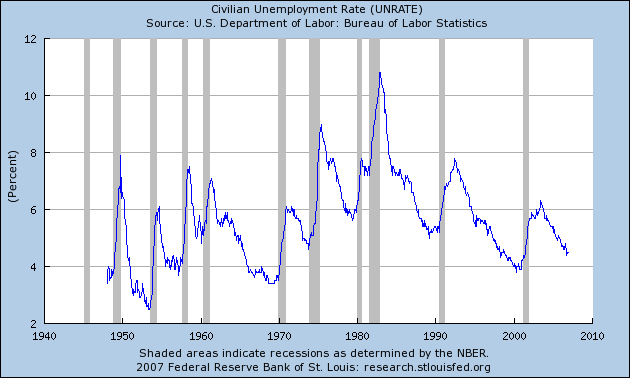 ---
Technorati Tags: macroeconomics,
employment,
BLS,
BLS household survey