On Wednesday, the President writes in a Wall Street Journal op-ed (sub. req.):
"America's priorities also include keeping our economy strong. The elections have not reversed the laws of economics. It is a fact that economies do best when you reward hard work by allowing people to keep more of what they have earned. And we have seen that businesses can expand and hire more workers when they have more money to invest — and since August 2003, America's employers have added more than seven million new jobs.


It is also a fact that our tax cuts have fueled robust economic growth and record revenues. Because revenues have grown and we've done a better job of holding the line on domestic spending, we met our goal of cutting the deficit in half three years ahead of schedule. By continuing these policies, we can balance the federal budget by 2012 while funding our priorities and making the tax cuts permanent. In early February, I will submit a budget that does exactly that. The bottom line is tax relief and spending restraint are good for the American worker, good for the American taxpayer, and good for the federal budget. Now is not the time to raise taxes on the American people.


By balancing the budget through pro-growth economic policies and spending restraint, we are better positioned to tackle the longer term fiscal challenge facing our country: reforming entitlements — Social Security, Medicare and Medicaid — so future generations can benefit from these vital programs without bankrupting our country."

I'll outsource the supply-side-redux argument for Andrew Samwick to address (although see also here). But I do await the President's plan to eliminate the budget deficit by 2012 with anticipation. It surely must be easier to project budget deficit decreases when so much of defense spending is funded via supplementals (as illuminated by this WSJ article (sub.req.) (PDF here) wherein all sorts of non-emergency spending items are lumped into these emergency supplementals. The Administration is said to be proposing an approximately $100 billion supplemental, in addition to the $70 billion already passed, implying a total of $170 billion for FY2007.
The President's faith in tax reductions as a means of generating rapid employment and output growth must be sorely tested when (if ever?) he is confronted with real world data demonstrating the previous expansion (under pre-Bush tax relief) was as — or more — robust than the current one. For completeness' sake, I repeat these graphs below, the first from 11/15 post, the second from 11/4 post.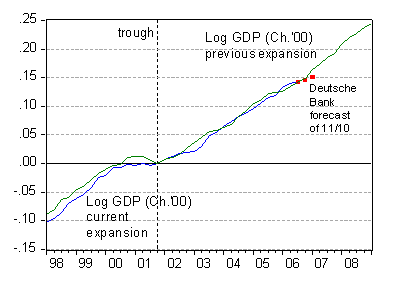 Figure 1:
Log GDP (Ch.2000$), normalized to zero at trough, in current expansion (blue), previous expansion (green). DeutscheBank forecasts (red squares). Source: BEA, NBER, and DeutscheBank 11/10/06.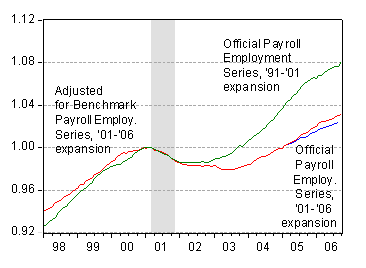 Figure 2:
Official payroll employment-current expansion (blue), Adjusted-for-preliminary-benchmark revision payroll employment-current expansion (red), and official payroll employment (1991-2001 expansion, green), all normalied to value of unity at NBER defined cyclical peak. Gray shading defines NBER defined recession period. Sources:
St. Louis Fed FRED II
,
BLS Preliminary benchmark revisions to establishment survey
, author's calculations, and
NBER
.
I do wonder what the short term deficit outlook will look like given the President has not settled on what the nature of the troop level surge in Iraq will look like. In Figure 3, I reprise a recent guess as to the monthly burn rates for operations in Iraq alone. The range for FY07 is 9.17 to 11.3 bpdm (billions of dollars per month), excluding reset costs.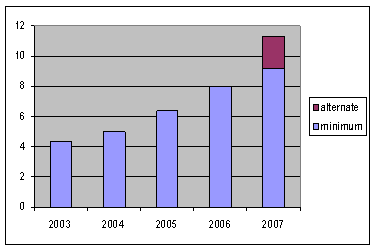 Figure 3:
Monthly burn rate for Iraq Theater of Operations, in billions of dollars per month (bdpm), by
fiscal
year. Source: For FY2003-06,
Amy Belasco, "The Cost of Iraq, Afghanistan, and Other Global
War on Terror Operations Since 9/11," Congressional Research Service Report RL33110
, September 22, 2006, Table 5. For FY 2007, author's calculations based upon reported figures (see text).
More details of the President's intentions can be seen on the White House website. One particular element makes entertaining reading:
"Rising Entitlement Spending Is A Long-Term Challenge That We Must Address Now. A balanced budget better positions us to deal with the unsustainable growth in entitlement spending. While the near-term fiscal outlook is bright, entitlement reform is needed to help address our long-term budgetary challenges and ensure these vital programs are available for future beneficiaries. The President has led the way in focusing attention on this problem and in promoting real solutions, but forging a solution will require bipartisan cooperation."
If only the President had had such dedication before pushing for Medicare Part D, saddling the Nation with an extra $9 trillion worth of fiscal exposure, greater in magnitude than the entire Social Security fiscal exposure, according to the GAO's David Walker.
More coverage: See Cactus and PGL at Angry Bear, Mark Thoma (I) and (II) at Economists View.
Technorati Tags: href="http://www.technorati.com/tags/fiscal+exposure">fiscal exposure, href="http://www.technorati.com/tags/budget+deficits">budget deficits
fiscal policy, monetary policy, and
tax cuts