One of the most profound questions in economics is why are some countries rich and others poor?
A paper by John Gallup, Jeffrey Sachs and Andrew Mellinger in the International Regional Science Review in 1999 introduced the concept of "GDP density", calculated by multiplying GDP per capita by the number of people per square kilometer. Basically GDP density is a measure of the total amount of economic activity that takes place at different spots on our globe. I found the map they produced quite fascinating: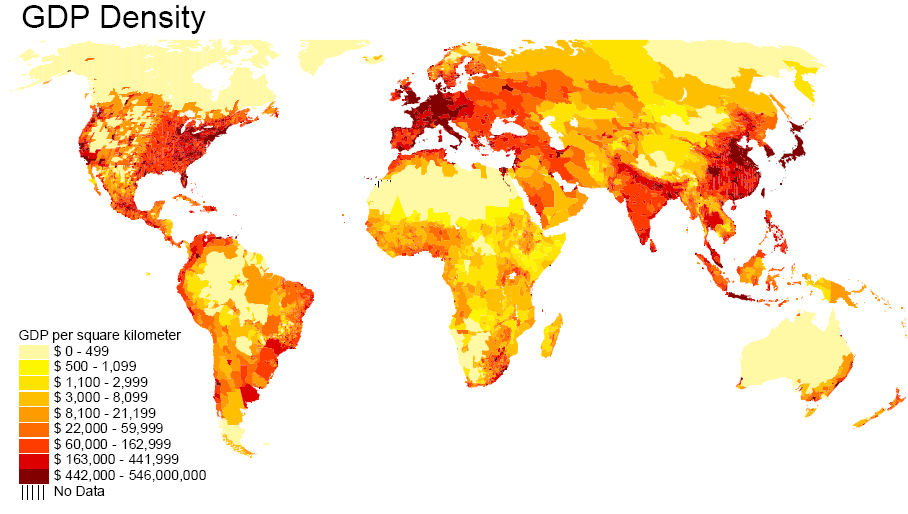 Not surprisingly, it looks a whole lot like those satellite pictures of the earth at night:
Economists often try to explain differences in income across countries by factors such as the capital stock, education level, and institutions defining property rights, all of which the government could influence with appropriate policies. But when you look at pictures like these, you can't help but be struck that there appear to be other very important and purely physical determinants of GDP. Economic activity clearly is much more intense near oceans, or, if inland, along navigable rivers where transportation by ship is feasible. Temperate climates with adequate rainfall also seem to be extremely important, perhaps for productivity of agriculture as well as for mitigating disease. When you look at just the United States, for example, no one would suggest that the big open stretches in the state of Utah imply that its governor has promoted policies that are hostile to business. Instead, the Utah desert, while one of the most beautiful spots on earth, is an inherently less suitable place for growing food or shipping products in and out. By the same principle, just looking at physical features, you'd predict that Afghanistan– a landlocked, mountainous desert– is destined to be poor, no matter what policies they adopt.
One of the lively areas of recent research in economics is trying to find empirical evidence of how much of a difference institutions can make for promoting economic activity. One could of course look at the obvious correlations between the level of economic activity and the kinds of policies and institutions in that country, but this is not very convincing. It might be, for example, that because the United States is rich in natural resources, our liberal institutions evolved as an outgrowth of that richness, rather than being the causal factor behind our wealth.
There's an interesting new paper on this question by James Feyrer and Bruce Sacerdote of Dartmouth College. Rather than relying on the already well-analyzed data of the world's 200 main countries, these authors developed new data on 80 ocean islands. They argued that the date at which these islands were colonized was to some degree a historical accident, and noted that the more years that island spent as a European colony, the higher its GDP is today:
Circles represent islands in the Atlantic, triangles islands in the Pacific, and squares islands in the Indian Ocean. Source: Feyrer and Sacerdote.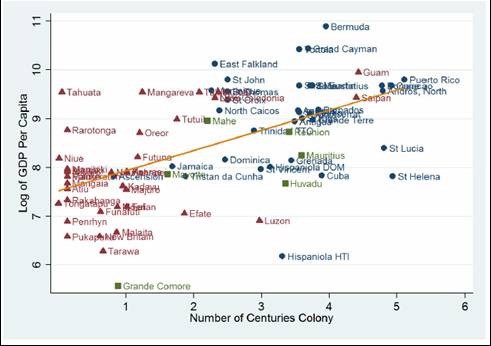 That correlation suggested to the authors that something about the institutions that accompanied colonization, such as laws protecting property rights and promoting capital markets, gave these islands an edge in economic development. On the other hand, another natural hypothesis is that those islands that were colonized first had the richest resources, and it is that inherently more favorable endowment that continues to help them today.
To try to resolve this fundamental ambiguity, the authors claimed to be able to explain the date of initial colonization in part by the magnitude of the prevailing winds. Their argument is that, before the 20th century, the most important determinant of whether a ship was likely to pass by or discover a given island was the strength of the east-west winds at that location. The empirical observation is that the stronger the wind, the longer the island was likely to spend as a colony:
Circles represent islands in the Atlantic, triangles islands in the Pacific, and squares islands in the Indian Ocean. Source: Feyrer and Sacerdote.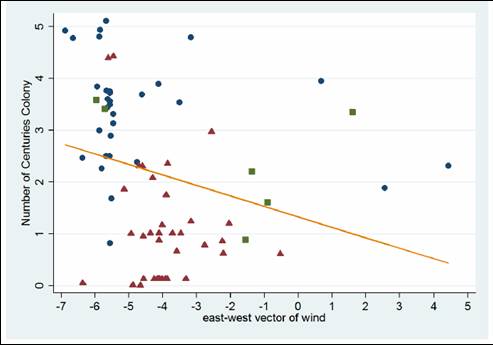 Feyrer and Sacerdote further observed that wind velocity should have been irrelevant for economic development after 1900. They therefore formed a prediction of how long a given island might have spent as a colony solely on the basis of the prevailing wind velocity, and then looked at the correlation between that prediction and the current GDP per capita. The argument is that, by using this first-stage prediction, one has isolated a statistical component of the time spent as a colony that is uncorrelated with factors that could otherwise be contributing to current GDP. They found a positive correlation, suggesting that institutions may indeed make a measurable contribution to current GDP.
Unfortunately, a critic could always object that, just as a strong wind may have helped determine when the first ship hit land, it would also have an influence on when the second ship arrived, and the third, so that it likely played a formative role in all sorts of important details such as the development of trade networks and accumulation of capital. This capital base may have provided a permanent benefit, which could perhaps be more important than anything about the current legal framework or institutions in determining GDP.
For that matter, a similar issue might account for the correlations between GDP density, ports, and climate. Perhaps the latter factors were important historically, causing physical and network capital to accumulate in certain locales, which remain prosperous today because of that capital rather than because of the ports or climate.
Physical scientists sometimes look down on economists for basing too much of our inference on guesswork and assumptions. But the truth is, most of us would love to be able to run a true controlled experiment to be able to resolve what causes what. Unfortunately, our main tool is to look at what actually happened historically in a given situation, where all kinds of variables are changing and influencing the outcome. Many of us therefore look for "natural experiments" that may have influenced such things as when an island was first colonized. But the answers, while interesting, very often fail to convincingly resolve the big debates.
---
Technorati Tags: income distribution,
economic geography