Darn hard to talk about this without bringing in the speculators.
Let's look at a couple of explanations for the recent plunge in oil prices that a priori might have been plausible, but don't really seem to fit the facts. First, it's natural to anticipate that the response of quantity demanded to the oil price increases over the last several years would take some time, as the fleet of existing cars, for example, gradually gives way to more fuel-efficient models when the older vehicles get scrapped. If demand declines have finally started to set in, that would be a powerful force in determining world oil prices. But even the most recent data continue to show U.S. gasoline demand still running pretty consistently higher than the previous year:
Data source: EIA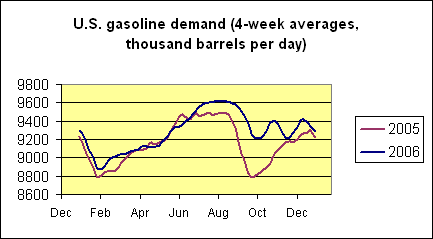 The rate of growth of Chinese oil demand has slowed, but the quantity of oil they are using is nonetheless still rising:
Annual averages (and average for first three quarters of 2006). Data source: EIA

Another possibility is that the concerns raised here last summer about what the drop in Saudi production might signify about their intentions or abilities have recently been laid to rest. But Saudi production has fallen even more since then:
Data source: EIA

And how about a relaxation of geopolitical tensions? Tim Iacono slices that hypothesis to shreds with his customary wit:
Crude oil prices continue to fall amid cuts in Russian oil supplies, talk of cuts from OPEC, revolt in Nigeria, more nationalization in Venezuela, and a tinderbox in the Middle East.

What's driving the price of oil down? It must be the weather.

Well, that and an apparent exodus of investors and speculators.
And I agree– the changed positions of speculators seem to be a big part of the story. The drop in U.S. inventories of crude oil has been pretty dramatic:
A change in crude oil inventories could signify a number of things. The traditional belief of many oil experts was that a drop in inventories meant that demand had unexpectedly exceeded supply, in which case the recent inventory plunge might be viewed as bullish for oil prices. But we have been out of that traditional regime for some time now. Instead, in recent years inventory accumulation has been an intentional response to the price incentives and investors' perceptions about the future, and the dramatic decline in oil inventories must be read as a sign that that speculation is ending abruptly.
That drawdown in inventories– down 25 million barrels over the last five weeks– has meant 700,000 barrels a day in additional supply to the market just from U.S. inventories alone. That quantity of additional oil available for use can– and has– put a lot of downward pressure on prices.
The retreat of the bulls has not been limited to crude oil, but is also apparent in other commodities such as copper and zinc: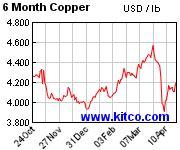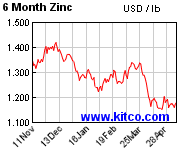 What could be driving all of this? An increase in the perceived probability of a global economic recession would fit the facts if we were just trying to explain commodity prices. But my reading of all the other indicators has been that this probability has decreased rather than increased over the last month. A drop in inflationary expectations would also explain the commodity price moves, if investors are just now figuring out that the Fed is not going to allow inflation to accelerate. But if anyone ever doubted Bernanke's resolve about fighting inflation, I could have told them– and did– that they were wrong long ago.
What about attributing the run-up in oil prices almost to $80 a barrel, and now the latest drop back near $50, entirely to speculation, without any reference to fundamentals? The reason I've resisted that hypothesis is that it's based on the premise that the folks who manage these funds are just throwing their money away. Buying high and selling low– which is exactly what is required if speculators alone sent oil up to $80 and now down to $50– is a good way to help your capital migrate to someone more deserving in a Darwinian sense.
In any case, it should be clear that any contribution from an inventory sell-off can only be temporary. After a few months of that game, you will run out of stuff to sell, and without that extra 700,000 barrels per day sloshing around, we're back to the standard equation of how much oil is actually used to make engines go and keep houses warm relative to how much is coming out of the ground.
Until U.S. and Chinese oil demand are kept in check, and until big production increases are forthcoming, it's hard for me to see how the price could continue to plunge.
My advice to would-be speculators remains that fundamentals are ultimately what must drive the market. Anyone who believes otherwise should not expect to hang onto their wealth for long.
---
Technorati Tags: oil,
oil prices,
Saudi Arabia,
commodity speculation