In his preview of the 2007 Economic Report of the President, CEA Chair Ed Lazear presented the argument that manufacturing output is still growing.
That point is depicted in Lazear's Chart 2: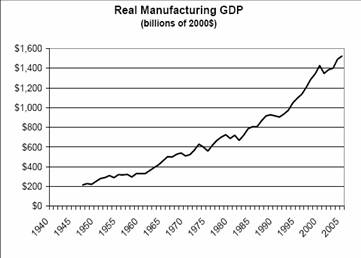 Figure 1:
Chart 2 from
Lazear (2006)
.
It would be interesting to see the real share of GDP. Unfortunately, with chain weighted quantities, it is not possible to easily calculate a meaningful "real share" measure. However, one can plot the the growth differential between real manufacturing and real GDP. Both the year-on-year and 5 year growth rates are depicted.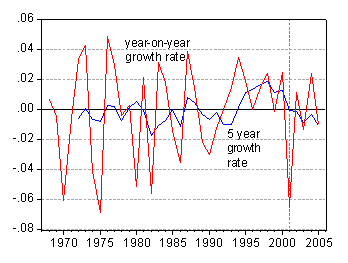 Figure 2:
Manufacturing growth/GDP growth differential, year-on-year (red) and 5 year rate (blue). Source:
BEA
and author's calculations.
What's clear is that manufacturing growth has not kept pace with GDP growth over the past few years (although we do not yet know what has occurred in 2005).
Of course, the point of Lazear's speech was to highlight the relative unimportance of manufacturing. As I've noted before, I believe manufacturing is important to the extent that manufactured goods are largely tradable. When the trade deficit shrinks (as it appears as it might be doing), the adjustment will have to take place on the tradables sector.
How big is the tradable sector? In Figure 3, manufacturing and the tradable share of (nominal) output are depicted. We'd be in big trouble if manufacturing goods were the only tradables — in that case only about 12% of output would be tradable. However, with the reduction in transport and telecommunications costs, many other goods — and services — are now tradable. Hence, I calculate a proxy measure of "Tradables" value added as the sum of value added in manufacturing, ex.-oil mining, agriculture, professional services, and 70% of finance and insurance. Using this proxy measure, slightly under a third of U.S. output is tradable.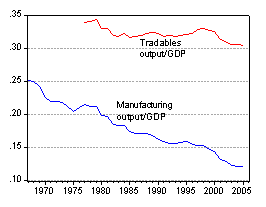 Figure 3:
Manufacturing value added to GDP ratio (blue) and tradable sector value added to GDP ratio (red). Source:
BEA
and author's calculations.
Here is my key point. When one expresses the trade deficit (ex.-oil) as a share of GDP, the deficit looks large, somewhat below 4% (as shown here). But the ability to pay for the trade deficit is based upon the tradable share of GDP. When this ratio is calculated, the situation looks much different (actually, a lot worse).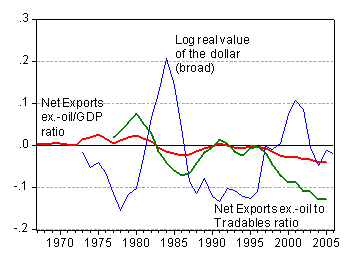 Figure 4:
Net exports ex.-oil imports to GDP ratio (red) and as ratio to tradable sector value added (green), and log real value of the dollar against broad basket of currencies. Sources:
BEA NIPA
,
BEA industry statistics
, Federal Reserve Board via St. Louis Fed FRED II, and author's calculations.
Net exports (ex.-oil) as a share of the tradables sector is about 12%. Food for thought.
Technorati Tags: href="http://www.technorati.com/tags/trade+deficits">trade deficits,
href="http://www.technorati.com/tags/exchange+rate">exchange rate,
tradables,
manufacturing